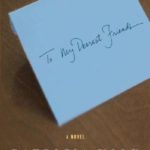 Amazon told me that people who searched for Crash Diet by Jill McCorkle (which I blogged about here) also went on to purchase To My Dearest Friends, by Patricia Volk. I had cut out a recent review of To My Dearest Friends from More magazine, so I found this Amazon connection intriguing. (I've always been a little suspicious of the Amazon recommendation system, but here it really seemed to work.)
From Fictionwise:
Alice, the proprietor of a chic Madison Avenue resale shop, and Nanny, a Carnegie Hill real-estate broker, have never met before, but they have one thing in common: their best friend Roberta, who has just died of cancer. Roberta has trusted them with her last request–that together they open her safe-deposit box. What they discover inside compels two very different women to join forces on a journey neither really wants to take. Wryly observed, and rich with the atmosphere of New York City–from the Gotham salad at Bergdorf's to the "Classic 6" apartment with OPW views (Other People's Windows)–To My Dearest Friends is a serious book that happens to be funny: a novel of real feeling and real life, about how what we hide from those we love can take us places we never imagined we'd go.
And from Publishers Weekly via Amazon:
Alice Vogel, a 62-year-old married Upper West Sider (and proprietress of an Upper East Side boutique), meets, for the first time, Nanny Wunderlich, a 59-year-old widowed therapist-turned-real estate agent, when the two are made co-executrixes of their dead friend Roberta's safe deposit box. In it, they discover a letter from an unnamed lover (Roberta was married) and team up to discover just with whom it was that their dear friend had been clandestinely sleeping. Alice and Nanny's sleuthing is perfunctory, and their voices, in alternating first-person chapters (and some in third person), aren't distinct. But the two are still fully realized New Yorkers, and—beyond frequenting Zabar's and the Metropolitan Opera, and using words like "gazillion"—they have real, stinging insights into later life in the big city… It's Volk's easy depth that makes this book, perhaps the first piece of empty nest chick lit, a winner.
Anyone out there heard of this book?