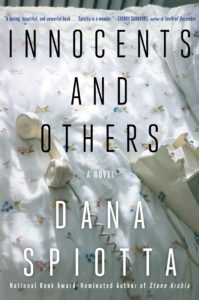 Dana Spiotta's Innocents and Others is a hot book these days, so I thought I'd give it a try and grabbed it from the library. It's the story of three women: Meadow and Carrie – both filmmakers, who were best friends growing up in LA – and Jelly, a woman living in upstate New York who contacted powerful men in Hollywood as a hobby and engaged in longterm phone relationships with them under an assumed name. (Jelly is based on a real-life woman named Miranda Grosvenor (not her real name) who engaged in similar catfishing of famous men.) Innocents and Others tracks Meadow and Carrie's careers and friendship, and weaves in Jelly's story so that it intersects with Meadow's as well.
Here's what Innocents and Others has:
-A close female friendship where both women work in the same field, with the expected ups and downs, jealousies and betrayals, but abiding love and respect
-A fascinating look at a woman who is so afraid of real connection that she spends her days hiding behind a fake identity and living through the movies
-An exploration of the responsibility of a filmmaker to pass judgment on her subject (or at least acknowledge wrongdoing). Is it wrong, for example, for a documentarian to focus on the perpetrators of massive crimes against humanity (Argentine executioners who adopted the children of their victims) rather than on the victims, to try to understand who they were?
-A variety of narrative devices, such as transcripts, lists of movies, interviews, essays
-A lot about movies and the study of filmmaking
I mostly enjoyed reading Innocents and Others, but it's also one of those books that made me feel like I wasn't smart enough to really get it. Maybe it was the passages about the history of cinema or the mechanics of filmmaking – those are not areas I know a lot about and I ended up skimming a fair amount of them. But I did enjoy the rest of it. I like Spiotta's writing – a little detached but wonderfully detailed about the things that matter. Unsurprisingly, I enjoyed the parts about friendship and connection more than those about filmmaking.
I went to a reading by Spiotta last week at Politics & Prose here in DC in the hopes that hearing her speak would enhance my understanding of the book, and it did. Here's what she had to say:
-What does she like about writing? Having questions and trying to figure them out through writing. Just like reading, writing brings joy when you feel the self go away and you can imagine other experiences and have connections, even if you're making them yourself.
–Innocents and Others is full of connections and discovery through the imaginary and the observational.
-Jelly, Meadow and Claire are all strange women. Reading fiction can make our own experiences more clear (?).
-Spiotta is interested in outdated technologies, like landlines. How funny that you would pick up the phone and there would be a stranger there! We hate the phone now – there is something intimate and intrusive about being called on the phone rather than being texted. Using landlines in the book established a "slight location to the recent past" so that we could see it more clearly and precisely.
–Innocents and Others also follows the theme of listening vs looking (phone vs film). Spiotta wanted to explore "the tyranny of the visual", where what you're saying doesn't matter, but what you're seeing that wins out. The power of the image overrides other senses.
-About the three plots in the book: Spiotta knew the stories would intersect, she just wasn't sure when. She doesn't like to write in a big line; she jumps from thing to thing as she's going through. The rhythm of the novel comes from switching the stories around.
In the end, I liked Innocents and Others a lot and am glad I read it. (Just feel free to skim the filmmaking stuff if you're not getting it.)