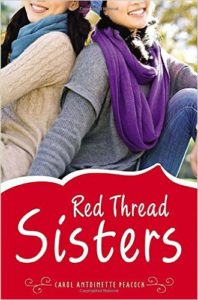 Our May mother-daughter book club read was Red Thread Sisters by Carol Antoinette Peacock. I've always been interested in Chinese adoption, so I was excited to add this title to our reading list.
Red Thread Sisters is about two Chinese girls who are best friends growing up in an orphanage. Wen was abandoned at age 6 by her family at the orphanage after her father lost his job and they couldn't afford to keep two children, while Shu Lin was left at the orphanage as a baby because of a deformed foot. While the two often dream of being adopted, in the end, it is only Wen who is picked by an American family. When the book opens, Wen is meeting her adoptive family for the first time and having to say goodbye to Shu Lin.
Wen moves to the Boston area and tries to get used to life with her new parents and at her American school. She has a lot of trouble trusting that her parents will keep her and that she won't be sent back to China if something goes wrong. Wen tries to reciprocate her younger sister's affection, but she doesn't know how to be a member of a family, or how to express love for someone other than Shu Lin. Meanwhile, she misses her best friend terribly, and feels guilty that she is in America living a comfortable, privileged life while Shu Lin is still at the orphanage.
Before she left, Wen promised Shu Lin that she would find her a family in the United States. She soon realizes that that is a hard promise to fulfill. At first, she tries to talk her new parents into adopting Shu-Ling too, without understanding how big of a commitment an adoption is. She then starts to learn more about the adoption process and how she can help Shu Lin's chances of being adopted.
Red Thread Sisters prompted a good discussion among the group about girls in China, international adoption and the challenges of being integrated into a new family. We also talked about friendship and responsibility, and whether Wen should have made her promise to Shu Lin. The girls liked the book – it held their interest and they felt compassion for the characters. We all agreed that there wasn't enough detail in the book: Wen seemed to have little problem understanding what was happening at school, and the months just seemed to fly by with no sense of her daily life in America. She was also pretty inconsiderate of her adoptive parents' feelings, but that was in part due to her inability to connect emotionally.
Overall, Red Thread Sisters was a good perspective-broadening book, even if it wasn't the best-written book we read this year. It led to a robust discussion between the girls and mothers, and that's usually the sign of a good book club book.