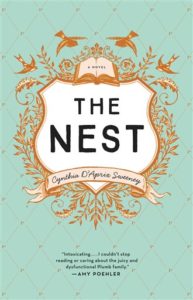 Unless you've been living under a rock this summer, you've heard of or possibly read The Nest. Cynthia D'Aprix Sweeney got a massive advance for this debut novel, which she wrote in her spare time, about four siblings in New York fighting over their lost inheritance. Leo Plumb, the bad boy, got into an accident driving drunk with a waitress in his car, and had to use the whole inheritance to settle with her. Meanwhile, Jack, his brother, needs his portion of the money to pay back a hastily obtained home equity loan, while their sister Melody needs to pay for her twins' college education. Bea, the fourth Plumb, doesn't need the money as much as she needs some inspiration to buoy her flagging career as a novelist.
The Nest is a relatively light, entertaining read. While it's tempting to dismiss the Plumbs as self-absorbed one percenters, as the novel went on I found myself caring about them and their predicaments. They they start out as just another dysfunctional family, but they eventually grow to care more about each other and even try to find ways to help each other out of their bad situations. (Leo remains pretty despicable.) They are both easy to mock, and easy to like.
Layered into the family drama are Sweeney's insightful observations about New York, publishing, parenting and relationships. The plot moves along quickly, as she weaves from character to character and shows their different perspectives.
I listened to The Nest on audio and really enjoyed it. Mia Barron was the perfect narrator for this book – precise, urbane and wry, but sympathetic when she needed to be. I highly recommend the audio for The Nest, though I did read a few chapters in print and enjoyed them just as much.
If you want a fun summer read with some substance and heft, give The Nest a try and help Ecco justify that huge advance.