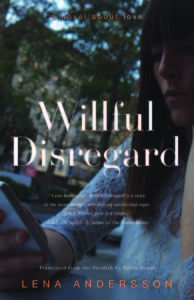 Here's what happens in Lena Andersson's Willful Disregard: Ester, a young Swedish writer, is asked to write an article about Hugo, a famous artist. She meets him and within one week she is completely obsessed with him. Despite their age difference, they develop a close friendship which consists of long dinners spent debating philosophy and ideas. Ester's obsession with Hugo persists as the weeks go by, and eventually, their relationship turns physical. Over the course of one week, they spend three nights together – Ester's dream come true. And then Hugo turns cold and starts ignoring her.
The book tracks the ensuing twelve months – every interaction Ester has with Hugo, every text, every email, every ill-advised call.
Willful Disregard is the literary fiction version of He's Just Not That Into You. It analyzes in painstaking detail the rollercoaster of Ester's interactions with Hugo – the hope, the delusion, the fury, the rationalizations, the desperation. If you've ever suffered rejection from someone you were really into, then you will recognize much of what happens in this book. It's beautifully written – translated from the Swedish – and while it might be too wordy or cerebral for some tastes, I enjoyed it.
Some passages I liked:
Her emotional life was now subject to the dissatisfaction of rising expectations. The only advantage of this is that after a time, the disappointment can turn into another law of nature, namely the delight that sinking expectations take in the tiniest possible detail.

She thought about the fact that seven billion people on earth did not have this reliance on hearing from him. Their health and wellness did not depend on it. So why did hers? There was no rhyme or reason to it. Why could she not feel the same toward him as the seven million did, living their lives with complete lack of concern for what he was engaged in? The girlfriend chorus said: Give up and leave this man. He's doing you harm. The girlfriend chorus really didn't understand. They were the seven billion.
I mean, it's painfully familiar, right?
This is the book I was reading post-election, and for a few weeks it felt too small and inconsequential to keep my attention. But I came back to it and while I can't say it lifted my spirits, I am certainly glad I read it. If it sounds appealing, give it a try – you won't regret it.