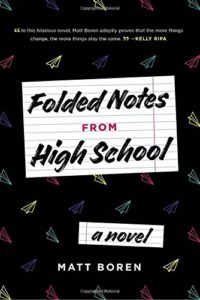 I was flailing around for an audiobook a few weeks ago, and I happened upon a review download on Penguin Random House Audio's Volumes app called Folded Notes From High School by Matt Boren. It ended up being an entertaining, if quick, listen. I think it's probably a YA novel, which I don't usually read, but I liked it anyway.
Folded Notes From High School takes place in 1991 in a high school outside Boston. Tara, a popular, pretty girl, is starting her senior year. She expects to play the lead in the upcoming school musical, Grease; go to the prom at the end of the year with her hot hockey player boyfriend; hang out with her best friend Stef; and get into NYU, her first choice for college. Nothing goes as planned. As the title suggests, Folded Notes From High School unfolds though a series of handwritten notes to and from Tara and left in lockers, backpacks and on desks. It's 1991-1992, so there are no cell phones, texts or emails. These kids communicate by notes and messages on answering machines. It all feels very retro, which is a lot of fun.
Tara is an unreliable narrator – narcissistic and deluded – and she runs hot and cold with everyone in her life. She is thrown off-center when a freshman named Matt Bloom tries out for – and lands – the part of Danny Zuko. She develops a crush on Matt, but when he doesn't readily return her romantic attention – and in fact starts dating Tara's rival – she becomes unhinged. The rest of senior year plays out with lots of melodrama, with Tara conniving and manipulating the people around her.
This was definitely a light read, but it was entertaining. I enjoyed the different voices of each character, and Tara is someone you love to hate. She gets what's coming to her in a few different, humorous ways. One issue: the book ends pretty abruptly – at first I thought it was a mistake – and I would have enjoyed a bit more resolution.
Folded Notes From High School was excellent on audio. There's a different narrator for each character, and they were each perfect! Selma Blair in particular was very funny – breathy and dramatic – and the actress who played Tara, Taylor Spreitler, was excellent. This was a very good ensemble cast production and it kept me interested throughout.