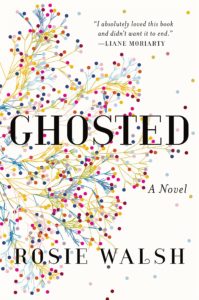 When Nicole raved about Ghosted by Rosie Walsh on Goodreads and on the Readerly Report podcast a few weeks ago, I thought it would be a good book to follow A Place For Us, which I liked a lot but found really slow. I wanted something that would suck me in early and go at a faster clip, and Ghosted didn't disappoint.
Sarah Mackey is a British expat living in America, where she has recently gotten divorced from her husband of 6 years. She returns home to England on her annual monthlong visit home to see her parents and best friends, and while home, she meets Eddie, a man with whom she feels an instant connection. They spend a glorious week together, each admitting by the end that they would like to continue the relationship once Sarah returns to California. Eddie heads off on a pre-planned trip to Spain, promising to be in touch on his trip and to see her on his return, and then… disappears. Sarah has been ghosted.
I don't want to say a lot about what happens next. as it will detract from the suspense of the story. Poor Sarah is completely distraught; did she imagine or misinterpret the strong connection she felt with Eddie? Where could he have gone, and why is he completely absent from social media? It turns out that there is an explanation, one that has to do with both Eddie and Sarah's pasts and how they are linked. There were a few times when I was sure the story was heading in one direction, only to be completely surprised by how it played out.
Ghosted is a quick, engrossing read with relatable characters and a few nice twists. It was a great palate cleanser for me – just what I needed when I picked it up.