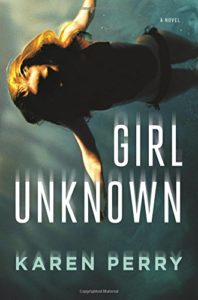 I recently moved and my life has been in disarray! I've been reading – always reading – but I haven't been blogging. So I am a few reviews behind and am trying to catch up.
Girl Unknown by Karen Perry is about a family of four in Ireland – Caroline and David and their two kids – who has achieved an uneasy peace after Caroline ended an affair with a parent from her son's school. They've just managed to get things back on track, when David, a college professor, is approached by Zoe, one of his students who says that she is his daughter. Zoe's entry into their family makes waves, understandably, especially as it becomes clear that Zoe is unreliable and manipulative. Her relationship with David drives a wedge between him and Caroline, as well as with his children, while David tries to determine whether Zoe is telling the truth about her birth parents and her childhood.
I learned about Girl Unknown from another blogger – I can't remember who! – and I thought it would be domestic fiction about an established family absorbing a new member. I didn't expect a domestic thriller, so that was a bit of a surprise.
Girl Unknown is very well-written. The dialogue was realistic and I liked how the authors (Karen Perry is a writing duo) really got into Caroline and David's emotions and gave both sides of this unfolding story. The plot got a little outlandish at the end, but throughout most of the book, I felt like I could really see this story happening. In the end, though, it's a thriller, and it didn't leave that much of an impact on me. If it weren't for the good writing, I might not even have finished it. But it was a good pick to get me through a hectic stretch – easy to pick up and squeeze in a few pages when I could grab some time.
Karen Perry are popular authors of other thrillers – I had no idea who they were, or I might have had some warning that Girl Unknown was going to be a different type of book from what I was expecting. Decent read, just pretty forgettable.