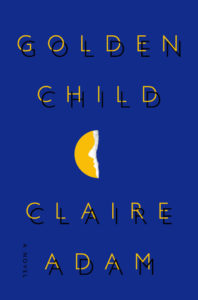 At the beginning of Golden Child by Claire Adam, Clyde, the father in a family of four in Trinidad, returns home from his job at an oil refinery. He learns that one of his twin boys – Paul – has disappeared, leaving his wife Joy and his other son Peter at home. Peter is an exceptionally smart boy who tested into a private school and is on track to go to college in America, while Paul, who had complications at birth, has been labeled "retarded" and struggles to keep up in school. Paul's disappearance, coming on the heels of a recent burglary at their modest home, sets events in motion that will test the family's love for and commitment to their two sons.
Golden Child is a tough read. I enjoyed the foreign setting of rural Trinidad and reading about the challenges the family faced in trying to move up. Clyde is a hard worker and doesn't want assistance – financial or otherwise – from family members, even those who offered to help his sons with their education. His commitment to independence and self-reliance is tested when it becomes clear that Peter is unique and deserving of opportunities that Clyde cannot provide without help. Yet his acceptance of that help turns out to be the family's downfall, as it brings with it menace and danger.
The decisions faced by Clyde and Joy are beyond painful, and Golden Child is a pretty stressful and sad book. It's kind of a hard book to describe – it felt almost like a fable to me, written in a simple but literary style. I found it to be memorable, propulsive and ultimately, devastating.
Golden Child is the second book from Sarah Jessica Parker's imprint, SJP for Hogarth. Her first, A Place for Us by Fatima Farheen Mirza (reviewed here) also explores complex family relationships and sibling dynamics in a non-American culture. I am impressed with SJP's picks and eager to see what she releases next.