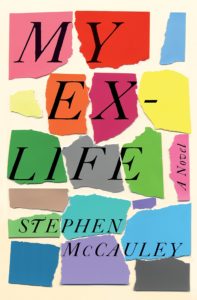 My Ex-Life by Stephen McCauley is about how ex-spouses David and Julie, married briefly in their twenties, find their way back into each other's lives a few decades later at a time when they each need some support and friendship. (Similarly, I read and loved a few Stephen McCauley books in my own twenties, like The Object Of My Affection, The Easy Way Out and The Man Of The House, but hadn't read any others of his recent books until now, when I needed something lighter to balance out some heavy reads.)
Julie has just gotten divorced, and her second ex-husband wants to buy her out of the house they owned together. Meanwhile, her daughter Mandy, a high school junior, needs help getting her college applications together and reaches out to David, who is a college application consultant for the rich. David's younger, hotter boyfriend has left him, and he is facing eviction from the San Francisco carriage house he has been renting at a huge discount. With no real plans for his future, David accepts Mandy's invitation to come out to Boston and help her get into college.
So, yeah, it's a rather contrived setup. And My Ex-Life is an old-fashioned novel, with chapters that end with mild cliffhanging sentences and gentle, wise humor about relationships, parenting and modern absurdities like AirBnB and the San Francisco real estate market. But I enjoyed it. It's not edgy or groundbreaking, but it's incisive and readable, not unlike other McCauley novels. I laughed out loud a few times at McCauley's funny observations, and I was rooting for David and Julie to figure out a way to help each other address the problems in their lives.
If you're a Stephen McCauley fan, My Ex-Life will feel like welcome, familiar ground. And if you're new to him, it's a nice update to his canon.
I listened to My Ex-Life on audio. It was narrated by George Newbern, who did a great job communicating McCauley's wry humor. He's got this reassuring, wise voice that makes you believe that even though everything is falling apart, it's all going to end up OK. Great pick for this book.