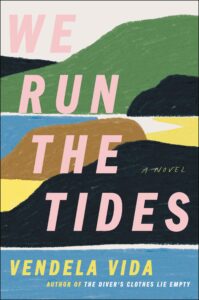 We Run The Tides by Vendela Vida has many things I like in a novel. Coming-of-age story? Check. Elusive friendships? Definitely. 80s setting? In San Francisco? Even better. In the end, though, it wasn't quite what I expected. I liked it, but it was sort of a strange book.
Why I picked it up: We Run The Tides has been on my radar since I picked it for our Winter Preview show on the podcast.
Eulabee grows up in the 80s in Sea Cliff, a fancy neighborhood near the Presidio in San Francisco. She spends foggy mornings walking to school with her three best friends, including the glamorous and beautiful Maria Fabiola. The four girls, now in eighth grade, know the area intimately from the wealthy residents to the chilly beaches and the ocean's tides. One day, the girls are asked for help by a man in a car, and they later disagree over whether the man had acted inappropriately. This disagreement leads to a permanent rift, with Eulabee the odd woman out. We Run The Tides is about the remainder of that fateful year, as Eulabee grapples with the fickle nature of adolescent friendship and navigates the path to adulthood.
Here's what I liked about We Run The Tides. It's an atmospheric novel filled with evocative detail and an unvarnished, rather lonely view of childhood. Even though it is character-driven, the characters remain a bit mysterious and skeletal. Eulabee's parents, though well-meaning, generally have no idea what is happening in their daughter's life, and the 80s setting provides the neighborhood kids with a freedom that affords Vita wide range in charting the kids' independence.
Here's what I didn't love. Eulabee is rather unemotional and detached, which makes her predicament seem less dire to the reader. She also makes a lot of bad decisions, again making her less sympathetic. Things sort of go off the rails in the final third of the book, where Vita's tight, plausible plotting goes a bit haywire and I wasn't really sure what was going on. (I did like the final chapter, which skips forward 35 years.)
In the end, We Run The Tides was a pretty quick book with a lot going for it, but which left me a little cold.
I listened to We Run The Tides on audio. The narrator, Marin Ireland, did a nice job with Eulabee. She has a low, understated voice that perfectly matched Eulabee's remote demeanor. It's a pretty short book, so the audio (6.5 hours) was very manageable.
We Run The Tides was the 15th book of 2021.