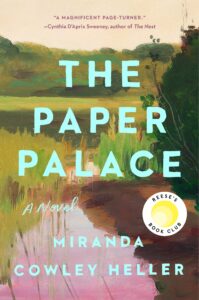 I was really excited to read The Paper Palace by Miranda Cowley Heller, a book I picked up earlier this summer, because so many people I know had highly recommended it. It's a story told in flashbacks about a woman named Elle whose family owns a ramshackle compound in Cape Cod where she has always spent her summers. In the present day, she has just slept with her best friend, Jonas, while their respective spouses are inside the summer house. In flashbacks, we learn about how she and Jonas became friends and why she is so tortured about him, while in the present, we are immersed in her conflicting feelings for Jonas and her husband, Peter, with whom she has three kids.
Why I picked it up: Strong reviews from people I trust and I liked the premise.
I was really hyped up for this one! And it's often really hard for books to live up to hype…
So let's start with the good. The Paper Palace grabs you from the beginning and makes you want to find out what happened with Elle and Jonas and who she will pick in the end. I was kept guessing until the final page, and I felt quite invested in the story. Heller is a good writer, too, and the book sensually evokes summer on the Cape. I liked both Jonas and Peter and could understand why Elle was so torn between the two.
The not-as-good: There was a ton of trauma in this book! So much that it was sometimes hard to keep it all straight. Elle's parents were awful people who were too selfish to parent, sacrificing their kids' well-being for their own relationships. Evil stepparents and stepsiblings led to Elle's childhood being chaotic and painful. I didn't mind the trauma itself, but its sheer relentlessness at times made me both disoriented and ultimately a little numb. I think if Heller had dialed it back just a little, the most pivotal events of the book would have stood out more. The ending was a little ambiguous but I *think* know where Elle is headed after the final page.
In the end, I liked The Paper Palace a lot. It wasn't the five star read for me that it was for many others, but I'd give it a solid 4.
The Paper Palace was the 41st book of 2021.