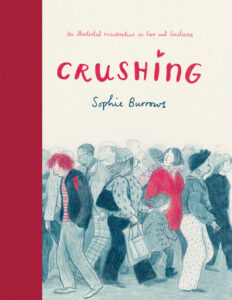 I am a big fan of graphic novels. I especially like graphic novels without text, as I am always impressed by how illustrators creatively convey so much emotion, action, etc. without using words. So when I was offered the chance to review Crushing, a new graphic novel by Sophie Burrows, I jumped at the chance.
Burrows' lovely book tracks two lonely young people living in a big city. When the book opens, the woman commutes home from work, surrounded by people living vibrant, social lives, only to return to an empty apartment and a cat. He, too, lives alone with his dog, heading out at night to get dinner at a fast food restaurant where he is confronted by groups of drunk friends living a much more fun life than his. This pair goes on through their days, aching for connection but finding themselves isolated and alone. Yet, they are never far apart from each other. Will they meet up? Is there hope for these two sad souls?
Burrows' illustrations appear to be simple – all grey tones with accents of red to point the reader's eye to what's important in each panel – but her drawings convey so much, through the angle of an eyebrow, a downturned mouth, a sloping shoulder. It doesn't take more than 45 minutes to read Crushing, but I found myself savoring it, flipping to the next page reluctantly and slowly so as to soak up every brushstroke on the current page.
The lack of dialogue makes Crushing even more relatable and universal, especially as we approach two years since the start of the pandemic and all of the social isolation it brought. It is sweet and melancholy yet also slyly funny and ultimately hopeful. A really fun and touching read.
Thank you to Algonquin Young Readers for inviting me to join the blog tour for Crushing.