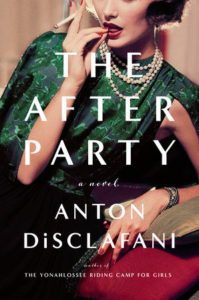 The After Party is a buzzy book this spring, one that I've seen on a few "Summer Must Read" lists, and I jumped at the chance to get the audio version a few weeks ago. I never read DiSclafani's earlier novel, The Yonahlossee Riding Camp For Girls, but had heard great things about it.
The After Party takes place in the mid-1950s in Houston, and it is about two women: CeCe Buchanan, the narrator, and Joan Fortier, her best friend. CeCe and Joan grew up together, inseparable. CeCe always admired Joan's wealth and beauty, but felt she fell short on both counts. When CeCe was fifteen, her mother was diagnosed with cancer and passed away. Her father had moved out of the house earlier to be with another woman, so CeCe moved into Joan's huge house and was supported by Joan's parents until she reached adulthood and married.
The After Party is about the strange, tortured relationship between CeCe and Joan, which followed a similar pattern: Joan acted out, CeCe tried to tame and protect her, Joan pushed CeCe away, Joan left for some significant period of time, Joan returned without warning and Joan kept CeCe at arm's length but permitted just enough closeness to keep CeCe in her life, but always wanting more. This pattern continued for years. CeCe got married and had a son, but Joan was always a looming presence – or absence – in her life. The book is about CeCe's coming to terms with this imperfect friendship, and her ultimate understanding of why Joan acted the way she did.
So here are my issues with The After Party:
CeCe was frustratingly inconsistent. She'd insist that she didn't care about Joan anymore, that she was through with her, and that she loved her husband and son more than anything, and then a paragraph later she'd contradict herself. I understand that this was DiSclafani's way of conveying Joan's power over CeCe, but it was frustrating as a reader.
I didn't buy into the Joan Fortier mystique. She was self-centered and not a particularly supportive friend. I did understand why CeCe felt so indebted to Joan (I won't spoil that here in the review), but why she was so enthralled, I don't know. This is the type of friendship that runs its course when people grow up.
The book needed more editing. There were certain phrases that were repeated over and over. Aside from my eventual fatigue with hearing the name "Joan" so many times, I also grew tired of hearing CeCe say the same things. Perhaps she was trying to convince herself that she was happy in her life? Whatever the reason, the book needed another good read-through with a red pen.
That said, I do think DiSclafani is a good writer, the repetition aside. She expertly conveyed CeCe's loneliness and her anxiety about her young son, who had not spoken a single word well into his 3s. There were two chapters that I found incredibly moving: when CeCe's mother was dying, and when CeCe meets up with her childhood nanny, ten years later. Those two chapters were excellent. I also liked the author's depiction of high society Houston in the 1950s, and how it trapped women into certain roles and expectations.
But I was angry by the time I finished The After Party – angry at CeCe and angry at the book. My friend Nicole called it "claustrophobic", which is a perfect description for it.
I listened to The After Party on audio. I thought the narrator, Dorothy Dillingham Blue, did an excellent job. I loved her Texas accent. (It's not her fault that I had to hear the name Joan so many times!) I would definitely recommend the audio if you want to give The After Party a try.