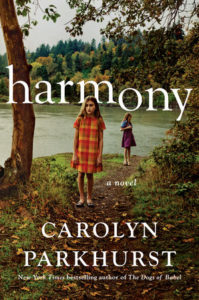 The EDIWTB online book club is back!
This month's book club choice was Harmony, by Carolyn Parkhurst, which comes out today. Harmony is about the Hammond family, parents Alexandra and Josh and daughters Tilly and Iris, who live in Washington, DC. Tilly is on the autism spectrum with a diagnosis of PDD-NOS (pervasive developmental disorder, not otherwise specified). She has been asked to leave her school because the administrators say she is too disruptive and that they cannot help her anymore. Alexandra, at the end of her rope after homeschooling and seeing little improvement in Tilly's behavior, turns to the guidance of a parenting consultant named Scott Bean. After months of private sessions with Scott, Alexandra persuades Josh to move the family full-time to a compound in New Hampshire, where Scott is creating a camp for families with children who have developmental disorders.
Harmony is told in alternating vantage points and through flashbacks. Iris, Tilly and Alexandra share the narration, and the setting switches back and forth between the summer of 2012 in New Hampshire to earlier years in D.C.
Camp Harmony, premised on the notion that kids need an environmental detox in order to address their developmental issues, is governed by Scott's many rules. No cell phones. No processed foods. Adults must turn over the keys to their cars. Families who live at Camp Harmony full time handle the cooking and cleaning. As the book progresses, Scott's rules become more arbitrary and his calm veneer less smooth. Is he who he says he is? What are his motives? The book reaches a climax when the Hammonds are forced to confront the truth about Scott and come to terms with why they are in New Hampshire and whether it is helping.
Harmony is, at its core, about the helplessness and desperation of parenthood, the innate desire to do whatever it takes to cure your children of their ills. I spent a lot of the book wondering whether I could see myself in Alexandra and Josh's shoes, selling my house and most of my belongings and putting my trust in another person to do what was right for my family. Parkhurst did a good job of building her case here. She chronicles Alexandra's increasing despair, her willingness to try anything, as remedies and therapies and curriculae fail Tilly, one after another. She also allows Josh and Alexandra some skepticism and rebelliousness at Camp Harmony to show that they are more than just blind adherents to Scott's will. She makes Scott reasonable and compelling enough that his brand and ideology seem credible. And then she shifts the narration to Iris so that the the reader can see what's really going on.
I really liked Harmony. There are some plot holes, and the ending was a little abrupt and unrealistic, but I thought Parkhurst did an excellent job of exploring the challenges of parenting a child on the spectrum. (I also loved all the D.C references.) Harmony was a fast-paced read, yet it is full of details that make you feel like you're right there at the camp with the Hammonds.
I am a big Parkhurst fan, and this one didn't disappoint.
OK, EDIWTB book club, what did you think?