Welcome to 2014! Yes, I finally read All The Light We Cannot See.
What more can I say about this book that hasn't already been said?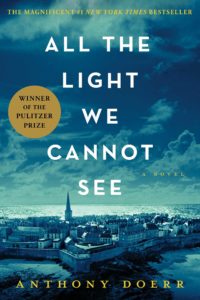 If you're inexplicably unfamiliar with this Pulitzer Prize winning novel, it's the story of two young adults – Marie-Laure LeBlanc, a blind French girl who escapes Paris with her father at the start of the Nazi occupation, and Werner Pfenning, an orphan boy who earns admission to an elite German military academy before joining the Nazis as a radio technology specialist. All The Light We Cannot See traces Marie-Laure's and Werner's experiences both leading up to and during the war through short chapters that rotate among several characters and subplots.
All The Light We Cannot See has been incredibly well-reviewed and acclaimed, so I was a little leery going in. Would it live up to the hype? Yes, there is a lot to like here. Doerr is a masterful storyteller, with the main plots teasing slowly to keep the reader quite involved. I found this book almost unbearably suspenseful at times, as I waited to learn the fates of these characters. The story is of course quite sad and very difficult at times, with Nazi horrors and violence in abundance. But there is goodness in these main characters, and by the time their lives intersect as the Allies bomb St. Malo, you've grown to care deeply about both of them.
You have to suspend your cynicism when you read All The Light We Cannot See. Some of it is just a bit too coincidental, and the story about the jewel that protects its custodian while destroying those close to him is more of a fable than a plot. Instead, enjoy the luminous prose and let yourself get caught up in the heart-pounding suspense and the triumph of humanity.
I listened to All The Light We Cannot See on audio, which was beautifully narrated by Zach Appelman. It's a long book, so you'll get to know Appelman's voice. No complaints – perfect accents, good job with both male and female characters, calm delivery despite some horrific and scary moments. I highly recommend the audio.