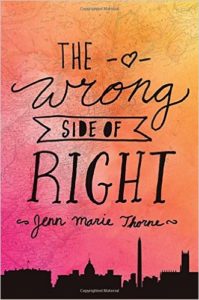 Our October Mother-Daughter Book Club pick was the very topical The Wrong Side of Right by Jenn Marie Thorne. The book is about Kate, a sixteen year-old girl who discovers that her father, whom she never knew about, is a Republican senator from Massachusetts who is running for president. This news comes to light (via a leak to The New York Times) a year after Kate's mother died in a car accident and five months before Election Day.
Kate has a decision to make: keep living with her aunt and uncle in South Carolina, or move to the Senator's house in Maryland with his wife and twins and live a life in the spotlight while she travels with the family on the campaign. She moves to Maryland, and what follows is a whirlwind of campaign stops, photo opportunities, interviews and events, with some time squeezed in to get to know her new family.
The Wrong Side of Right is about a young woman figuring out who she is and what she stands for, without much help from the people around her. She finds an unexpected ally in her stepmother, but is repeatedly disappointed by her father's remote disinterest despite her attempts to get to know him. The plot of the novel is implausible in many ways – the secrecy of her paternity and the convenient timing of its reveal, for example – but the depiction of the modern campaign definitely rings true. (If only our current campaign were as tame as the one in the book!). Cell phones abound, and there's even a love story thrown in to keep teen readers interested. (With the president's son, no less!) Kate is a relatable, imperfect main character whose situation might be highly unusual but whose feelings are not.
The Wrong Side of Right was enjoyable and compelling, and I wanted to keep reading to find out what would happen. Our book club had a good discussion about the reality of living through a presidential campaign and the ethics of the Senator's behavior throughout the book. Not everyone finished the book, as it's pretty long, but those who did seemed to enjoy it quite a bit. And it was perfect timing, with the current election three weeks away.