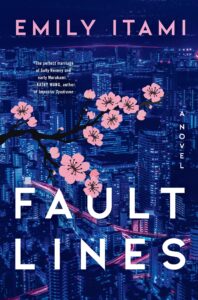 Book #1 of 2022 is… in the books. My first read was a debut novel by Emily Itami called Fault Lines. It's about a housewife named Mizuki in Tokyo who is restless and dissatisfied with her role as a homemaker, wife and mother, as she mourns the freedom and excitement of her former life as a single singer in New York. At his best, her workaholic husband ignores her; at his worst, he is cold and dismissive. When Mizuki meets Kiyoshi, a handsome restauranteur, while out with friends one night, he awakens a dormant version of Mizuki – fun, clever, flirtatious – who lives in tension with the traditional Japanese housewife who should be happy with what she has.
Why I picked it up: I've had my eye on Fault Lines ever since it came out. I had some credit at the bookstore at the end of the year and gladly snapped it up. Also – that gorgeous cover!
Fault Lines is an impressive debut. Itami does a good job of conveying the joy, tedium and frustrations of parenthood, and Mizuki is a completely relatable character. She yearns to be noticed and appreciated, and literally wilts under her husband's lack of attention. With so few other sources of affirmation, her depression is understandable, as is how she comes back to life after meeting Kiyoshi. Sadly, her dual life is unsustainable, and by the end of the book she will have to choose between the stability of her family or her love for Kiyoshi. I enjoyed Itami's writing – readable, funny and insightful, and l really got to know Mizuki by the end of the novel.
I also fell in love with Tokyo while reading Fault Lines. I have always wanted to go to Japan, and now I really want to go to Japan, everpresent earthquake threat notwithstanding. The food, the parks, the cherry blossoms, the sparkling night lights… the city's charms are on bright display here.
Fault Lines was a strong start to the reading year! My one issue: I listened to it on audio, and the narrator was a white British woman. Why? Lydia Wilson was a great narrator – precise, eloquent and funny – but it was a missed opportunity not to have used a Japanese narrator.
Fault Lines was the 1st book of 2022 and satisfied several categories of the 2022 EDIWTB Reading Challenge: Book With A Flower On The Cover, Book Set Outside the U.S. and Debut Novel.