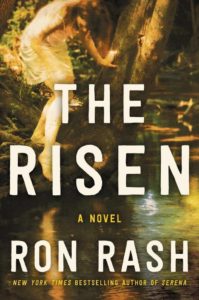 How have I not read anything by Ron Rash before?
The Risen is my first foray into Rash's Appalachia, and hopefully won't be my last. It is about the summer of 1969, when a young woman comes to a small town in North Carolina and upends the lives of two brothers, Bill and Eugene. She disappears shortly after the summer ends, and when her dead body is discovered 45 years later, Bill and Eugene finally confront what happened that summer between them and the woman, and also the role they played in her ultimate demise.
The Risen is told very simply. It is narrated by Eugene, and jumps back and forth between the present and that fateful summer. Details are teased out slowly throughout the book, about Eugene's troubled, alcoholic life and ruined relationship with his daughter; about Bill and Eugene's strict, domineering grandfather; about how the brothers' roles as kids persists throughout their lives.
Despite its short length, the story is a rich and complicated one, with a few twists along the way. It's about loyalty and responsibility, resentment and disappointment, and how lives can be irrevocably changed in one summer and set on immutable courses for years to come. I finished it a few days ago, but I keep thinking about it, discovering new dimensions and connecting new threads.
I highly recommend The Risen and plan to check out more of Rash's books.
I listened to the first 2/3 of The Risen on audio, and it was excellent. The narration by Richard Ferrone was *perfect*. I can't say enough about how well-cast this production was. Ferrone captured Eugene's passion and shame just perfectly, with a deep, passionate voice that had just the hint of a tremble in it. He's best known as a thriller and mystery narrator, which makes sense, though he added the perfect dose of romanticism to troubled, dreamy Eugene. Huge props to the audio version of The Risen – I was sorry not to have had the opportunity to listen to the last third.