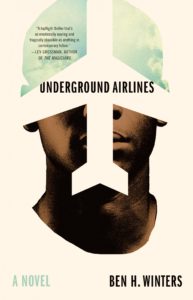 Underground Airlines by Ben Winters imagines an America where the Civil War never took place. Abraham Lincoln was assassinated while fighting to abolish slavery, and modern day America is now made up of 46 states where slavery is illegal and 4 Southern states where it is not.
The narrator, Victor, was a slave in a meat processing plant in one of the Hard Four, and he managed to escape several years before the book opens. He was eventually caught in Chicago, but instead of going back to the factory, he made a deal with the U.S. Marshals: he'll become a slavecatcher – someone who tracks down runaways – and has a chip inserted into his neck so that the government can always find him. He's free, but not free. He's a slave, but not a slave.
When Underground Airlines opens, Victor has been assigned to find a runaway in Indianapolis. As the case evolves, he discovers details missing that suggest that the man he is looking for – Jackdaw – is not the typical runaway slave. From there, Victor is drawn into an increasingly complex web of underground abolitionists, double agents, unethical government agencies and people willing to give up their lives to the cause of undermining the slave economy. He finds himself ultimately returning to the South and going back "behind the fence" to try to solve the case, although who he is working for – and whose directions he is following – shifts throughout the book, keeping the reader guessing.
I commend Winters on the creativity behind Underground Airlines. His depiction of institutionalized slavery is chilling and deeply offensive, but also sadly realistic. He included the fictional legislation ensuring slavery will continue legally into perpetuity, and also traced the global economic forces brought on by U.S. slavery and their ramifications throughout the 46 free states. I am always impressed with writers of dystopian fiction who are able to conjure up whole worlds different from our own and convey many layers and levels of those societies.
Victor was a complex and interesting character, and I also liked being in his head.
I am not a big fan of thrillers, so I wasn't as crazy about the parts of the book involving escapes and gunfights and beatings and violence. Not my thing. It wasn't gratuitous in Underground Airlines– slavery is violent – but again, not my favorite thing to read. That said, the violence was relatively contained so I was able to get through the book. I also had trouble tracking a few of the plot twists, but ultimately, I think I understood it. There's a pretty big reveal at the end that explains why the stakes were so high in this particular recon mission, and I am proud to say that I followed it! Yay me.
I listened to Underground Airlines on audio, and the narration by William DeMerritt was SO good. His ability to transform realistically into so many different characters – white or black, young or old – was pretty amazing (though I didn't love his narration of a female character named Martha). He did an excellent job with this book, conveying Victor's anger, helplessness and intelligence as needed throughout the story, and like Victor, he never lost his cool or his consistency. I highly recommend the audiobook of Underground Airlines.
This was a pretty good read, overall. I am not sure I would have picked it up had I known it was as much a thriller as dystopian/moderately realistic fiction, but I am still glad I read it. Thought-provoking, especially at a time when so many of our institutions seem to be at risk.