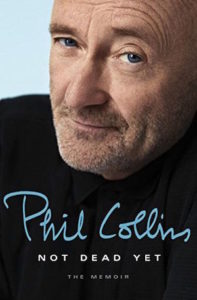 Phil Collins came out with his memoir, Not Dead Yet, this fall, joining a crop of rock bios that have been getting a lot of attention recently. I was a big Genesis/Phil Collins fan back in the 80s, so I was excited to get my hands on the audio version of Not Dead Yet.
Collins narrates the audio version, which enhances the sense of intimacy the listener feels with him throughout the book. It opens with his early days in suburban London and tracks his family life and his childhood/early adulthood obsession with music. From there, the juggernaut of Collins' career kicks in: joining Genesis, touring larger and larger venues, taking over frontman status from Peter Gabriel, more Genesis albums, his explosive solo career, more Genesis albums, Disney soundtracks, hit movie songs, and on and on. There is a reason Phil Collins seemed ubiquitous in the 80s and 90s – he was. He was also a workaholic who couldn't say no to any opportunity – to sing, to compose, to produce, to collaborate. He would travel the globe while on world tours, and then return to his home base where he would jump immediately into the next project without stopping.
This lifestyle took a toll on his personal life, which Collins does not gloss over. Three marriages, three divorces, long distance relationships with his five kids – these all weigh on Collins, and he perseverates on them throughout the book. He takes the blame for the failure of his marriages, though he manages to make himself look OK at the same time. Collins was criticized by the media when all of this was going on, particularly his delivering his request for a divorce from wife #2 via fax, and his affair with a woman half his age while on tour. Collins takes the blows here, for sure, but it's clear that he is relieved to finally be telling his story.
He also shines a light on some other personal stuff, like his obsession with the Alamo and the physical ailments that plagued his later career, like an ear stroke that caused him to lose his hearing in one ear and the hand and back issues that put an end to his prolific drumming. The toughest section comes at the end, when Collins describes in painstaking detail his slide into alcoholism in the early 2010s and the terrible toll it took on his body and his family.
I thoroughly enjoyed Not Dead Yet, especially the behind-the-scenes look at the music, the bands and the touring. On many occasions, I paused the audio to call up a song on Spotify or a video on YouTube, which definitely enhanced my enjoyment of the book. I am addicted to 80s nostalgia, and Not Dead Yet did not disappoint. If you were even a casual Genesis or Phil fan, I think you'll enjoy this book.
Collins is apologetic about his ubiquity – almost overly so. He suggests that his transatlantic dual performances on Live Aid in 1985 were almost accidental, and he distances himself from the coincidence of having hit songs with two bands on the charts at the same time. He basically says, "I get it – I was sick of me too." (Sometimes this is a little too much.)
Collins is clearly an emotional, complicated guy, and Not Dead Yet shows him in the most flattering light possible. I'm sure there are other sides to a lot of his stories (and in fact I heard a few of them at Thanksgiving dinner from someone who knows him), but I liked hearing (and believing) Phil's version for 10 hours. I mean, that's the point of a rock memoir, right? To clean up the reputation?
Collins' albums have all been recently remastered, and if you listen to them on Spotify you get a new cover, a closeup of Phil's sixtysomething face instead of the thirtysomething faces I remembered from the original covers. It's kind of creepy, but it's reality – our rock gods are aging. Not Dead Yet at least gave me glimpses of that younger guy, and for that I am grateful.
(And yes, I found out what "In The Air Tonight" is about. Not this:)