The first book I finished this year was Camilla Way's Watching Edie, a suspense novel about two friends who reconnect twenty years after a tumultuous summer that destroyed their friendship and forever changed their lives.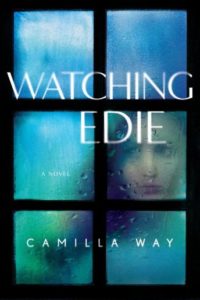 Edie, a thirty-three year-old woman living in London, is facing a pregnancy as a single mother with few friends or connections. When she's at a vulnerable spot before the baby arrives, Heather, a friend from high school, appears at her door. Edie is shaken and upset: what is Heather doing there? Why, after all these years, has she reappeared in Edie's life after the demise of their friendship? After Edie's baby daughter is born, when she is at her most vulnerable and alone, Heather appears again, taking care of Edie and the baby as Edie slips into a deep post-partum depression. Edie eventually emerges from the depression and is shocked by the control Heather now has on her life. She ejects her from her apartment and manages to pull herself together.
Meanwhile, Way threads the women's history through the narrative, flashing back to their high school years and teasing out what happened to cause their estrangement.
I find that reading thrillers like Watching Edie is like inhaling a bag of movie popcorn. It's addictive and tastes good as you're doing it, but in the end you feel empty and a little ill. I think Way is a good writer, and I got drawn into this story quickly and was quite sympathetic toward Edie. (Way's depiction of PPD alone is chilling.) The last chapter, however, when you find out what happened between the two women, was disappointing. The big reveal, while quite upsetting, wasn't the shock I was expecting. Everything ended very suddenly with the novel taking a sharp turn away from what came before.
There were also some details early in the book that didn't make sense in retrospect, but I won't address them here because I don't want to spoil the story.
I listened to Watching Edie mostly on audio, and I thought the two narrators, Fiona Hardingham and Heather Wilds, did an excellent job. Their accents and voices were easy to distinguish and they really established the two women's personalities well. I was so engrossed in the audiobook that I eventually picked up the print version and just finished it off so that I could get to the ending more quickly. (Popcorn.)
Not a bad start to the year of reading, but I think I am swearing off thrillers for a while.