If you think you share my taste in books, based on reading this blog or knowing me in real life, then I highly recommend you check out J. Ryan Stradal's Kitchens Of The Great Midwest. I suspect that it will be one of the top two or three books I read in 2017. It's that good.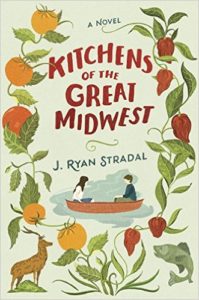 Kitchens Of the Great Midwest follows the life and career of Eva Thorvald, a girl born in Minnesota to a chef with a very refined taste for ingredients and the preparation of food. The story is told through chapters that jump forward in time, and Eva is often just a bit player in those chapters. Stradal changes the focal character each chapter, though characters recur throughout the whole book. Each chapter also features a different ingredient – sweet pepper jelly or venison, for example – which is central to the plot of that chapter. And those ingredients also become a part of Eva's life and her history. Eva evolves into becoming a world-renowned chef with a sought-after pop-up dinner party that ultimately costs $5,000 per person, and the book culminates in a dinner that incorporates each of the ingredients from the preceding chapters.
I didn't expect to like Kitchens Of The Great Midwest as much as I did. I don't generally like books with "quirky" characters or books that focus on food. I'm not much of a foodie. But I absolutely loved this book. Stradal is a beautiful writer with excellent pacing and an unexpected edginess that I adored. ("Since then, he seldom came to mind; she'd thought of him only when she'd made certain mistakes with men in her unmarried years, and the Napa Cabs and Central Coast Pinots he introduced her to had their sentimental associations smudged away after years of repeated exposure.") Each character was beautifully fleshed out, even the ones who only showed up for one chapter. And if you're from the Midwest, I think you'll love this even more than I did.
The structure of the book may be unusual, but it worked beautifully here. I couldn't wait to see who would show up next.
I listened to the first half of Kitchens of the Great Midwest on audio, and then I couldn't resist and had to finish the rest in print (though I read it slowly and in limited bursts so as to draw it out). The audio was fantastic, with some chapters narrated by Michael Struhlbarg and some by Amy Ryan (you may remember her as Michael Scott's girlfriend on "The Office"). I especially liked the narration in "Venison" – authentic accents and a lot of sympathy for the characters. I loved the audiobook and I loved the print.
What a treasure this book is.