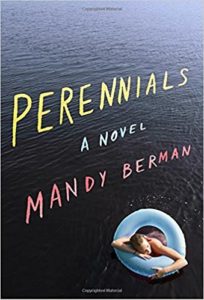 Vacation read #1 was Perennials by Mandy Berman. This book has been on my radar for a few months. It's about two friends – Rachel and Fiona – who meet at summer camp as campers and have returned to the same camp as counselors several years later when they are both in college. Rachel, the daughter of a single mother in Manhattan, is cool and confident, while Fiona, from a wealthy family in the NY suburbs, is not as comfortable in her own skin as Rachel, and is subsequently envious of yet drawn to her friend.
Perennials is billed as a story about Rachel and Fiona's friendship and how it is affected by how they grow apart and the secrets they keep from each other, but that's not really accurate. It's more of a collection of short stories that covers a wider circle of characters than these two women: Sheera, a black camper who is new to the camp; Helen, Fiona's little sister; two British counselors spending the summer at the camp; and on and on. Characters rotate under Berman's microscope, as she explores their own discomforts and longings while they are at camp. This novel in stories is atmospheric and intriguing, but it's not the friendship novel it's being marketed as. I enjoyed the shifting perspectives but felt at times as if I was missing out on deeper character development and a more satisfying story arc.
Much of Perennials will feel familiar to people who spent time at summer camp – not just the sensations but the dramas and intensity – but like camp itself, reading it was sort of a fleeting experience. I finished it a few days ago and it basically evaporated as soon as I was done. Reviews are pretty good so maybe it was just me expecting something a little different when I went into it.