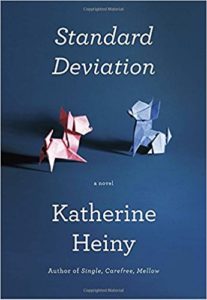 I had high hopes for Standard Deviation by Katherine Heiny after reading her collection of short stories, Single, Carefree, Mellow. I loved those stories for their snarky humor and incisive honesty about relationships. Standard Deviation is a novel, and I was excited to read it based on its synopsis: Graham, a man in his 50s, is torn between lingering feelings about his restrained ex-wife, Elspeth, and his larger-than-life current wife, Audra.
Sadly, I was disappointed by Standard Deviation. Heiny is as snarky and observant in this book as she was in her novels, but the underlying tension here just didn't work for me. First, Audra is basically a caricature and incredibly annoying. I had a hard time seeing how Graham could be so besotted. The whole subplot of Audra's infidelity was never really resolved, which also seemed unrealistic to me. Graham didn't want to lose her, but he also didn't seem the type to just sweep it under the rug. His relationship with Elspeth was odd, to say the least, and she too didn't seem the type to hang out with her ex-husband and his current wife as much as she did, notwithstanding her coldness and snark.
And not too much happens in the book either. There is a lot of day-to-day commentary about Audra and Graham's lives in New York City, as well as the challenges of parenting a son with Asperger's. Much of that commentary is funny – some of it even brilliant – but without the propulsion of a compelling plot to get me through, reading Standard Deviation was a bit of a slog. I was happy to be done.
If you want to try Katherine Heiny, check out Single, Carefree, Mellow first. This one didn't do it for me.