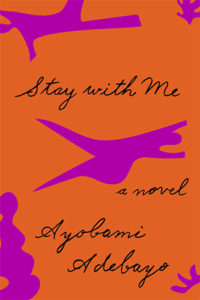 Stay With Me by Ayobami Adebayo is a moving novel about a marriage tested and strained by infertility, secrets and the pressure of tradition. When the book opens, Yejide and Akin, a modern Nigerian couple who met at college, are in love and have a respectful marriage of equals. After several years of marriage, Yejide is not pregnant, and Akin's family pressures him to take a second wife to produce a child, even though he promised Yejide that she would always be his only wife. The introduction of that wife, Funmi, sets into motion a chain of events that does lead to pregnancy, but also brings heartbreak and tragedy.
There are layers of secrets and betrayals to be revealed, the cumulative effects of which drive a wedge between Akin and Yejide that causes them to separate for a decade (which is made clear in the first chapter). This is a terribly sad story, with two people who love each other deeply but who are also desperate to get what they want as well, by whatever means necessary. Ultimately, this modern couple cannot escape tradition – the traditional pressures to have children, the looming spectre of polygamy, even the genetic disease that Yejide carries – and that pull of tradition dooms them.
Adebayo is a masterful storyteller. The book took some turns I didn't expect, and her slow revealing of Yejide and Akin's history was enthralling. But I often had the sensation of being in a downward spiraling eddy, as things got worse and worse with little hope of redemption. I kept wanting things to get righted, and they don't.
I listened to Stay With Me on audio. The narration by Adjoa Andoh was just perfect –  so many accents, dialects, tones, moods, each done beautifully. I really enjoyed the performance and felt that it really enhanced my understanding of and appreciation for the book.
Stay With Me has gotten a lot of acclaim this year, and rightly so. I recommend it – just be emotionally ready for it.