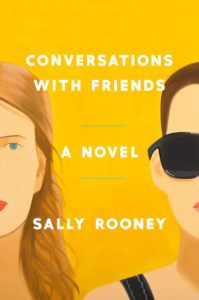 Conversations With Friends by Sally Rooney is about Frances, a 21 year-old in Dublin who has recently broken up with her girlfriend Bobbi and has an affair with an older, married man, Nick, who is half of a couple that Frances and Bobbi befriend when the wife, Melissa, gets interested in Frances and Bobbi's spoken poetry. That is pretty much all that happens. There is a lot of talking and texting and thinking. Frances and Bobbi fight and make up a few times, and there is drama when Melissa learns of the affair. (Strangely, the foursome continues to socialize even after Melissa finds out, which I had a hard time accepting.) Frances is rather cold, and she communicates with Nick with varying degrees of honesty and candor, depending on how vulnerable she is willing to feel. Nick is weak and insecure despite his good looks, and he can't make up his mind about what he wants.
I don't quite get the hubbub over Conversations With Friends. I credit Rooney for her sharp writing and very accurate depiction of emotions, particularly twentysomething emotions when inappropriate relationships are involved. She definitely nailed that. But as a novel, it was disappointing. All that time spent on one relationship between two relatively uncompelling people! I never felt emotionally invested in this story and it took me much longer to read than it should have. I also think Frances and Bobbi acted more like people in their mid- to late 20s, not 21 year-olds.
A good friend of mine really enjoyed Conversations With Friends. I am going to give (not quite) equal time to the opposing viewpoint and include the text she sent me last week when I told her that I wasn't loving the book: "It's more of a series of conversations.  Musings than a story. I love the way she captures the mindset of that age woman. And how the male character unfolds. Literally."
Totally fair. The musings are real and relatable, and some of Frances' actions and thoughts definitely brought me back to my own 20s. For me, though, the narrowness of the story and self-absorption of the characters held me back from really engaging with it.