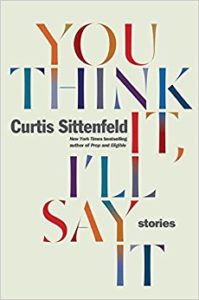 When I learned that Curtis Sittenfeld had a collection of short stories coming out next spring, I had to get my hands on it. Immediately. I don't usually love short stories, but we're talking Curtis Sittenfeld here. I will read anything she writes. So I got it, and I read it, and it was great.
The ten stories in You Think It, I'll Say It are about relationships – friends, exes, acquaintances – and the moments in life when they reappear or emerge in a surprising way, often against the backdrop of fame or marriage. In "A Regular Couple", a woman is on her honeymoon when she comes across someone she went to high school with. Their power dynamic has shifted, which plays out in interesting ways when they end up spending a few unexpected days together. "The Prairie Wife" is about a mother of young kids who discovers that someone she knew at camp is now famous for creating a persona that is quite different from how she was as a teenager. In "Plausible Deniability", a sister and brother-in-law play a dangerous game via text that ends when they both realize that he can never be what she wants him to be.
I don't love short stories because they are unsatisfying; the good ones always leave me wanting a lot more. The stories in You Think It, I'll Say It are no exception. But damn, these are good. They combine two crucial elements: convincing, honest observations and dialogue, plus some sort of twist or surprise. There were situations in each of these stories that I could strongly relate to, and as always, Sittenfeld just nails them. Like her other books, high school plays a big role, but there are also stories about marriage and parenthood. I read this book slowly, savoring each story because I didn't want it to end.
It's not fair for me to write this review now, when You Think It, I'll Say It isn't out until April 2018. But I'll post it again next spring and urge people to read it. If you're a Sittenfeld fan, then this will be right up your alley.