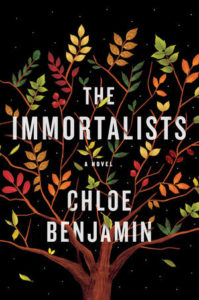 The Immortalists by Chloe Benjamin is about four siblings, Varya, Daniel, Klara and Simon, who, as children, visit a fortuneteller in Manhattan who reveals to them the dates of their deaths. Each child learns his or her date privately. The Immortalists follows the lives of the four children in the following four sections, exploring how the fortuneteller's prediction affects their decisions about how they live their lives.
About 10 years after the fortunetelling, Simon and Klara move to San Francisco, as far as they can get from their Manhattan childhoods. Simon joins the gay scene of the early 80s, finally out and true to himself. Klara follows in her late grandmother's footsteps and pursues her dream of being a magician/performer. Varya and Daniel, dutiful and responsible, comfort their mother and forgo their own dreams to take care of her. The siblings, who aren't particularly close as the years pass by, remain bound to each through the invisible thread of the fortuneteller's predictions. Some share their date with the others, and some don't.
The Immortalists is about free will vs. fate. Are they destined to die on those days? Or do they live their lives in a way that brings the date on? That's the fascinating question at the core of the book. I think some sections succeeded better than others – I liked the first, Simon's, the most – but I found this theme to be powerful and thought-provoking throughout. Don't expect an upbeat read – each of these characters is burdened by a weight and sadness that persists throughout their lives. The knowledge of the date propelled some of them to live more fully, while it had the opposite effect on the others.
I found The Immortalists to be well-written and thought-provoking – almost haunting. It's one of those books that stays with you long after you've read it. It has gotten a lot of buzz this year, and deservedly so. I am glad I withstood the stampede at the BEA Buzz panel last May to grab a copy – definitely worth it!