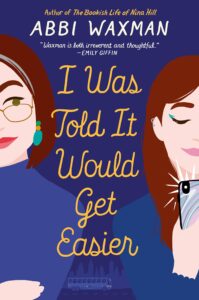 Sometimes a book has such an irresistible premise that you pick it up against your better judgment. That was the case with I Was Told It Would Get Easier by Abbi Waxman. It's about a mother and daughter taking a college tour trip together up the east coast and learning more about each other in the process. I have read one other book by Abbi Waxman – The Bookish Life Of Nina Hill – and I was pretty underwhelmed by it (review here), but I have two daughters who are high school seniors and have been on several college tours with them this year, so I had to read this, right? Yes, I did.
Why I picked it up: Had to. (See above.)
Jessica and Emily Burnstein live in LA, where Jessica is an overworked attorney and Emily is a high school junior. Emily's father is out of the picture. One week, Jessica takes vacation and travels east with Emily, where they join a group of other LA parents and teenagers to tour schools. (Is this a thing? Professional college tours? I had no idea.) They fly to DC, then train/bus to Philly, NJ and a few cities in NY. Along the way, they visit some of Jessica's old friends, her father and an ex-boyfriend, while Emily meets a cute boy and freaks out every other day because she doesn't think she actually wants to go to college. The two have several fights, but manage to make up quickly every time.
I flew through I Was Told It Would Get Easier, but now that it's done, I think it's a pretty silly book. Emily and Jessica have the same fight over and over – Emily is resentful that Jessica works so much and Jessica is sad because Emily pushes her away. At first, Waxman told the story through both perspectives so that the reader could see that they were really just misunderstanding each other, but even she seems to have gotten bored with that approach and gave up about halfway through. Meanwhile, the schools themselves are little more than chapter titles, with neither mother nor daughter paying any attention to or forming any opinions about them. In fact, they skip touring half of the schools. And then there is a silly subplot involving the FBI that I suppose was topical when the book was written but now seems unrealistic and absurd. Also Jessica and Emily kept having the same conversations and never made much progress toward a deeper understanding of each other. Their relationship was pretty superficial.
I think Abbi Waxman may just not be for me.
I Was Told It Would Get Easier was the 59th book of 2021.