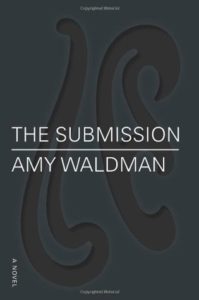 Amy Waldman's The Submission (Vacation read #5) takes a look at the political aftermath of 9/11 through the setup of a competition to design a memorial at Ground Zero. The book was written in 2011, but it's set a few years after the attacks, when a jury of art bigwigs, city officials and a 9/11 victim's wife are choosing the winning design. The final choice – a garden – turns out to have been submitted by a Muslim-American named Mohammad. Once word gets out that the winner is Muslim, the outcry is swift and passionate, with various groups protesting the choice and others defending the architect's right to see his winning garden through to completion.
There are a number of characters here – the architect, the guy in charge of the jury, the widow, the widow of a Bangladeshi immigrant who was also killed on 9/11, the brother of a firefighter who lost his life in the Towers, the ambitious journalist who broke the story, etc. They each have their positions, extensively articulated by Waldman in impressive detail.
I bought The Submission many years ago – close to its publication date – but didn't start it until this summer. In the end, it didn't work for me, and here's why. First, context. I think America has other issues on its mind right now than how it feels about Muslims. Our enemy is coming from within these days. The book felt outdated to me and I had a hard time feeling passionately about the questions she raised. Maybe I would have felt differently pre-Trump.
Second, Waldman – a journalist herself – seems to have listed the points of view she wanted to express and then assigned characters to those points of view. As a result, they were one-dimensional  – stock characters used solely to round out the discussion with the needed talking points. With the exception of Mohammed, they were predictable and not at all complex. In the end, I didn't care about any of them.
Third, The Submission was sooo slow. The narrative moved along at a snail's pace, with lots of wordy dialogue as points of view were expressed over and over. Waldman is not a bad writer, but this didn't feel like a novel, per se. It felt more like a transcript of a documentary. I had a really hard time getting through it. This could have been a really interesting book – maybe in Tom Wolfe's hands? – but as written, it wasn't.
I listened to The Submission on audio for the first 200 pages and then finished the last 100 in print. The audio was fine – narrated by the capable Bernadette Dunne (who narrated Abide With Me by Elizabeth Strout) – but the narration couldn't fix the major problems with the book.
I am sorry to say it, given the author's good intentions, but give The Submission a pass.