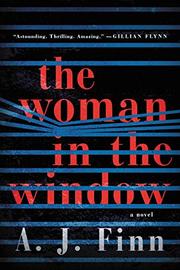 Vacation read #6 was The Woman In The Window by A.J. Finn. I knew that this was a popular book when I stopped in to the little gift shop on the Greek ferry boat I was riding from Santorini to Athens and saw the Greek version of the book by the register – one of only 10 books in the store.
The Woman In The Window was one of the buzz fiction books I picked up at Book Expo 2017. It's the story of Anna Fox, an agoraphobic woman – a therapist – who hasn't left her home in upper Manhattan in months. She keeps tabs on her neighbors, dispenses advice on a website for fellow agoraphobics, watches classic movie thrillers, and drinks – a lot. One day, a new family with a son moves in across the street. Anna befriends the teenager and his mother, each of whom stop by her house, providing her with some human connection that she has been lacking so acutely in recent months. Within a short time, though, Anna witnesses the mother being beaten to death in the house across the street, and frantically summons the police to investigate.
Anna is the classic unreliable narrator – a familiar character in psychological thrillers. Did Anna really witness a murder? If so, where the is the body, and why does the husband deny that he was married to the woman Anna met? Or did Anna hallucinate the whole thing – the meeting at her house, the murder – due to the toxic combination of alcohol and prescription pills that she ingests every day? The police are skeptical, the son is evasive, the father is irate.
So, this book is typical thriller popcorn, causing me to breathlessly turn pages to get to the resolution. There are a few twists along the way (including one big one which I found pretty obvious), and there is a constant thrum of tension and peril that accompanies the whole book. Anna is literally trapped – she is too afraid to leave the house – which ratchets up the danger when others are in the house with her. Who can she trust? Can she even trust herself?
In the end, I didn't like The Woman In The Window much at all. Too stressful of a read and implausible in the end. Add to that an inexplicable sex scene and an overwhelmingly detailed confession and you get an unsatisfying resolution.
I'd skip it.