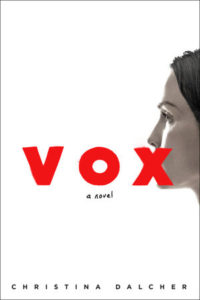 We're living in troubling times, and that's reflected as much in current fiction as in the news we read every day. Novelists are just as concerned as the rest of us. Vox, Christina Dalcher's new dystopian novel that takes on the precariousness of women's rights in America, is grim and alarming, but ultimately unsuccessful.
It's the near future, during the presidential administration of an unnamed man whose term succeeds that of America's first black president. In an incredibly short period of time, religious fervor has taken hold and women have lost almost all of their rights. They can no longer work; all decisions are made by husbands; girls go to school only to learn home ec; and worst of all, women must wear bracelets that restrict them to speaking 100 words a day. If they go over 100, they suffer electric shocks. Premarital sex is a crime, as is homosexuality; those in same-sex relationships are sentenced to hard labor and imprisonment until their sexual preference is "corrected".
Ugh.
Dr. Jean McLellan, a formerly renowned linguist and scientist, lives with her husband Patrick and four children in Washington DC. Patrick works in the president's administration, and Jean is silent at home. Their youngest, Sonia, is a girl, and Jean is dismayed at Sonia's future as well as her oldest son's dangerous support of the values-based policies of the administration. She's also pining away after her secret lover – an Italian scientist she hasn't seen in months.
The possibility of change comes when the president's brother is in a skiing accident and has suffered speech aphasia – Jean's area of expertise. The president makes her a deal – if she'll come back to the lab and develop a cure, she can take off her – and her daughter's – word counter. This brings Jean back in contact with her former colleagues – and her Italian boyfriend.
Vox is thought-provoking – and terrifying – to be sure. Dalcher started out with a great premise. But as a book, it kind of falls apart as it goes along. It turns into a thriller rather than a serious novel, with a rather preposterous conclusion that also ends a bit too cleanly. I can't say I enjoyed reading Vox, and not just because it's incredibly depressing. I wish Dalcher has stuck to dystopia rather than veering into action thriller territory. The writing also really repetitive.
If you're a guy, be warned: men don't come across too well in this book.
I listened to Vox on audio. It was narrated by Julia Whelan, who infused Jean with the fury and stridency the character required. It's not a relaxing listen. But my issues are with the plot, not the narration – Whelan did what she could with it.
Vox was a buzzy book at the end of the summer. I am sorry to say that I can't recommend it.