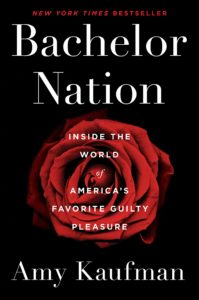 I am a fan of the Bachelor franchise. I have been since the beginning. I've watched almost all the seasons – maybe missed 4 or 5 along the day – and it's definitely one of my top guilty pleasures. It's mindless, yes, and predictable and ridiculous too, but I do love watching it.
So I jumped at the chance to read and review Bachelor Nation: Inside The World Of America's Favorite Guilty Pleasure by Amy Kaufman. It's a behind-the-scenes look at the franchise, compiled with lots of research about the show and how it works. Kaufman starts with a history of dating shows, which is a little dry, but then explores how the Bachelor franchise got started and why it's so popular. Kaufman explains how the producers manipulate interviews and dates to create drama, and how people on the show are pressured to act certain ways and say certain things for the cameras. She covers the double standard for men and women on the show and gets a bit into the details of what it's like to live in the mansion.
I didn't learn anything earth-shattering, but Kaufman did answer some of the questions I've amassed over time. I wish she had gone into more detail about the daily lives of the contestants and what it's like for the couples when the cameras stop rolling. Many of her sources were other books, articles or blogs, and I wanted more first-person accounts and interviews. I feel like I never have enough detail when it comes to The Bachelor!
If you're a hardcore Bachelor fan who follows the podcasts and blogs about the show, then you'll probably find that Bachelor Nation doesn't have a lot of new material. If you're a casual fan who hasn't spent a lot of time learning about the show, then you'll find this book to be a fun read. If you don't know or care about the show, then definitely don't pick this one up.