[I am FOUR reviews behind. Ugh! I think I need to make these posts shorter.]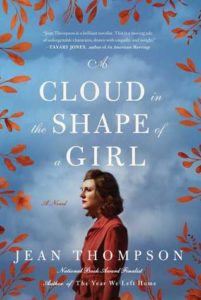 A Cloud In The Shape Of A Girl by Jean Thompson is probably going to make my top 3 books of 2018. I really enjoyed this story about three generations of women in one midwestern university town. Warning: it's pretty depressing.
Evelyn, the grandmother, is dying when the book opens. Thompson takes the reader back to Evelyn's marriage, shortly after World War II, and her relationship with her professor husband. Evelyn isn't particularly happy with him or with her life, but she participates dutifully as they attend events at the university and raise two children, Mark and Laura. She isn't a particularly warm mother or grandmother, and in her old age, grows more prickly.
Laura grows up, gets married and has two kids of her own. She stays in the same university town, close to her parents, and works for the university. Her husband Gabe is a difficult alcoholic, and his behavior, along with their son's drug addiction, puts a strain on their marriage. Their daughter, Grace, tries to get as far away from her family as she can, but feels the pull of obligation when her mother gets sick and her father and brother's relationship deteriorates.
This is not lighthearted stuff.
I thought Thompson did an excellent job of tracking the family threads binding these people together, happily or unhappily, and the ways our parents shape us and define our lives. I dog-eared so many pages of this book because the writing was so insightful. Here are a few sentences I loved:
"When did you reach the point when you started counting up losses, rather than looking forward to adventures?" (Ugh – so sad!)
"When your parents died, you lost your childhood, or at least the best witnesses to it."
"Death was impersonal. It pulled your loves and hates up by the roots. It rolled right over your likes and dislikes. It took as much as it could of history and memory. This was its moment. All else fell back behind it."
A Cloud In The Shape Of A Girl is not action-packed. So much of what happens are small gestures – people just making it through the day. But the women felt incredibly real to me, and I felt their pain, longing and conflict right along with them. Cancer, drug addiction, alcoholism are all explored in relatable, poignant detail in Thompson's quiet, understated prose. These characters' lives are messy, and they don't end tied up in neat bows. That's life, right?