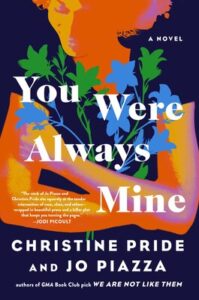 The writing team of Christine Pride and Jo Piazza is back with another book about race, this time in the context of transracial adoption, in You Were Always Mine. Cinnamon, a married Black woman who spent a chaotic childhood bouncing among foster homes, befriends Daisy, a young white woman who meets her at the park every Friday. One week, Cinnamon shows up for their usual lunch, but instead of Daisy, Cinnamon finds a newborn baby hidden in the bushes, along with a note for her. Cinnamon decides to keep the baby, who is white, against her husband's wishes, while she tries to locate the baby's mother.
Why I picked it up: I enjoyed the duo's last book, We Are Not Like Them, which looked at a police shooting through the eyes of two best friends, one white and one Black.
Pride and Piazza have a nice way of weaving different voices into one narrative. In You Were Always Mine, the narration alternates between Cinnamon's story in third person, and first person letters written by the baby's mother after she gives her up. We learn about both women's difficult childhoods and how they drove them to make the decisions they did about the baby. Some aspects of the story are unrealistic, such as Cinnamon's not turning the baby over to the police right away or the fact that she integrates a newborn into her life with seemingly little interruption. And some of the heavier aspects of the book – racism, incest, the broken foster system – were only glossed over and given a somewhat superficial treatment. But similar to their earlier book, I like how Pride and Piazza create realistic relationships between among people of different races and allow them to experience conflict and honest dialogue. In the end, I enjoyed this story about two flawed but caring women and the many shapes that motherhood can take.
I listened to You Were Always Mine on audio. Narrators Alexis Floyd and Jenni Barber did a nice job with the voices, especially Barber's Daisy.
You Were Always Mine was the 31st book of 2023.