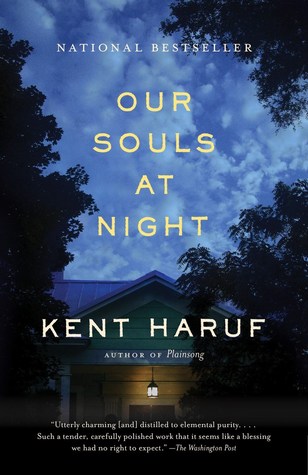 My hot reading streak in January continued with Kent Haruf's final novel, Our Souls At Night. Addie and Louis are single, in their early 70s, living in a small Colorado town near Denver named Holt. Both lost their longterm spouses within the last few years. One night, Addie appears on Louis' doorstep with a proposition: she is lonely, and suspects he is too, and wonders if he would like to come over and night and sleep in her bed. She's not suggesting a physical relationship, just companionship at night.
Louis is surprised, but intrigued, and decides to give it a try. The two embark on a sweet, gentle relationship in which they reveal their true, flawed selves to each other, acknowledging mistakes they made in their marriages and their disappointments in their lives. Not only do they accept each other as is, they genuinely enjoy each other's company. This is a grownup, realistic relationship, one without expectations or delusions of forever.
Their quiet routine – which has attracted the attention of their small town – is disrupted when Addie's young grandson Jamie comes to stay with her while his parents navigate a separation. Addie and Louis absorb Jamie into their lives, providing him with love and stability while their relationship deepens around him. Sadly, Jamie's father, Addie's son Gene, distrusts Louis and puts pressure on his mother to stop spending time with him.
There is a melancholy that pervades Our Souls At Night, turning the sweet moments bittersweet. It is not surprising that Kent Haruf was himself dying as he wrote Our Souls At Night; mortality and looking back on one's life are pervasive themes. (And the ending is simply heartbreaking.)
I loved Haruf's spare, quiet writing, his depiction of simple scenes that carry deep meaning and significance. I can't believe I haven't read anything else by him before – I am going to add some of his other Holt-set books to my list this year. What a lovely book this was.
One caveat – no quotation marks! Annoying.