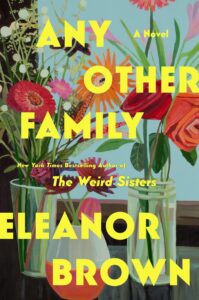 [Quick note: if you tried to access EDIWTB over the last week, you were met with an error message. There was a fatal line of code in one of my plug-ins that caused the blog to fail. Thankfully, the nice people at GoDaddy were able to fix it and I am back in business. Sorry for the inconvenience!]
Sometimes a book slump can be blamed on external factors, like stress or health or distractions. But sometimes, a book slump can be blamed on a book! The latest reason for my seemingly endless book slump fell into the latter category. I read Any Other Family by Eleanor Brown, and it took me three weeks to get through it. It was just a slog.
Why I picked it up: I liked the premise a lot and the library hold came through.
Any Other Family is about an unconventional family with four children. The kids have the same birth parents, but they have been adopted by three different parents: Ginger, who adopted the oldest, a girl; Tabitha/Perry, who adopted boy/girl twins; and Elizabeth/John, who adopted the youngest, a girl. Tabitha has worked very hard to ensure that the children feel part of a bigger family, hosting everyone for dinners on Sunday nights and organizing a vacation for everyone in Aspen. When Any Other Family opens, the extended group has just arrived at the vacation home. Shortly afterwards, the adults learn that the birth mother is pregnant again and plans to give the fifth child up for adoption too. The book covers the two-week vacation, during which the parents try to determine who should adopt the fifth child and the women confront each other over their different parenting styles and the way they relate to each other.
I can't really explain why Any Other Family was so tedious, but it really was. I usually like character-driven stories in which not much happens, and not much happens in this one, for sure. But it's just so relentlessly analytical and contemplative and repetitive. I understood these three women pretty well by halfway through and didn't really need another 150 pages inside their heads. Also, I think Brown could have delved more into adoption and identity rather than focusing on their different parenting styles. I wanted to know more about how the kids related to their parents and each other, and the role the birth mother played in all of their lives. Instead, she was hardly discussed. The book had such an interesting premise but I felt like the execution barely scratched the surface of the interesting stuff and focused instead on minutiae that was less compelling. It took me forever to finish and I was even sort of skimming by the time I was done.
In the end, this one just wasn't for me.
Any Other Family was the 48th book of 2022.