I just finished the 19-hour audiobook of Becoming, narrated by author Michelle Obama. It was totally worth the time investment, as I loved every minute of it.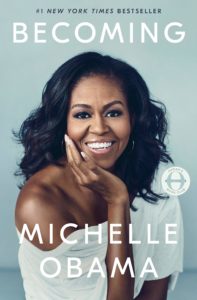 Becoming is Michelle Obama's memoir of her life to date (age 54 when she finished the book). It opens with her childhood on the south side of Chicago, where she lived with her parents and her older brother Craig. She describes the Robinsons' small apartment, her father's debilitating MS, her mother's consistent and loving parenting, and the schools she attended in Chicago. The book follows her to Princeton, to Harvard Law School, to her years as an associate at a big law firm, and to her meeting a young summer associate named Barack Obama. The rest of her story is well-known, at least on the surface.
Becoming is an intensely personal, eloquent and relatable memoir about, as Michelle herself describes herself, "an ordinary person who found herself on an extraordinary journey". My favorite parts: her days as a young working mother, when she would run errands at a nearby mall during lunch and congratulate herself on getting it all done; her struggle with infertility, combined with a frequently-absent husband; her struggle to balance the demands of the White House with the need to support her daughters and keep their lives private; and the insights into her partnership with Barack and their relationship within the walls of the White House.
It's powerful to hear her talk about the issues and causes that meant so much to her – healthy eating and exercise for kids (including the White House garden), supporting military families and wounded veterans, empowering girls around the world – and how hard she worked to use her position to make meaningful progress with those causes.
I also loved the behind-the-scenes details about life at the White House and how isolating it could be. One night, when the White House was lit in rainbow colors to celebrate the legalization of gay marriage, Michelle and Malia tried to sneak out of the residence in order to experience the lights the way the thousands of celebrants outside did. She wanted to hear the sounds – something that was impossible to do within the White House.
Becoming is beautifully written, utterly captivating and pure pleasure to read. I can't say enough good things about it – and its author.
I listened to Becoming on audio. Michelle's narration makes the book even that more powerful. It is amazing to hear her experiences and thoughts in her own voice. She's a consistent and compelling narrator. If you can spare the time, I highly recommend the audio!