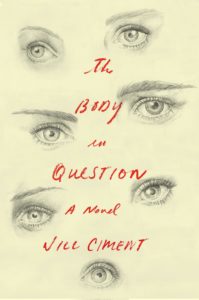 The Body In Question – a new summer 2019 release coming out on June 11 – is a relatively short but addictive novel by Jill Ciment about a woman in her 50s who is chosen as a juror for a murder case in Florida. The jury is sequestered due to the sensational nature of the charges – a teenage girl is accused of setting a fire that killed her baby brother – and during the trial, the juror (#C-2) develops a sexual relationship with one of the other jurors (#F-17). She has a much older, infirm husband, and the first half of the book covers her affair with the juror and the culmination of the trial, while the second half explores her relationship with her husband after the trial.
I really enjoyed The Body In Question, for a bunch of reasons. First, jury dynamics are fascinating. I don't like courtroom dramas and find trials really tedious (hello, ex-lawyer here), but I really like learning about juries and how they come to their decisions. Ciment did a great job here with realistic characters and dialogue, relatable situations and consistent tension throughout the book. I felt invested and wanted to know how the trial would come out, as well as whether C-2 would end things with F-17 before they got caught by the other jurors or the guards at the Econo-Lodge.
There are a lot of big issues at play here – loyalty, mortality, guilt and obsession for starters. C-2 has a coldness to her, reflected in her interactions with both her husband and F-17, which keeps the reader at arm's length, emotionally. But it didn't impact my enjoyment of the book. The writing is spare and efficient, with no extraneous detail or dialogue. The last section is particularly powerful, where Ciment looks unflinchingly at difficult choices made at the end of life.
I listened to The Body In Question on audio. It was narrated by Hillary Huber, who was a perfect choice for this book. Her raspy voice conveys confidence and brashness, just like C-2. It's like she's daring you to judge C-2, while at the same time communicating that she doesn't care if you do. Excellent audiobook.