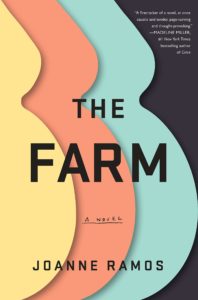 I am back from Book Expo! I had a great few days in NY last week picking up books, meeting authors and hearing about what's coming out later this year. When the book boxes arrive, I'll take some pics and let you know what I am excited about. Lots of good titles heading our way later in 2019! I am most excited about the upcoming J. Ryan Stradal release, The Lager Queen of Minnesota, and some new buzzy fiction that I got my hands on, like Ask Again, Yes and Miracle Creek.
Back to reviews.
The Farm by Joanne Ramos takes on a fresh, original topic: the business of surrogacy and its class implications in America. Golden Oaks is a compound outside of New York City that caters to the superrich who want to have children without having to carry them. Golden Oaks carefully screens surrogates, implants them with fertilized eggs, and then once they are pregnant, provides them with healthy food, medical supervision, supervised exercise and seclusion so that the babies they are carrying have the best chance at a healthy full-term pregnancy. Golden Oaks clients are extremely wealthy, while the women carrying their babies are mostly poor minorities who serve as surrogates for the big payout.
Jane is a Filipina nursing home aide with a baby of her own who is referred to Golden Oaks by her much older cousin, Evelyn. Serving as a Host at Golden Oaks is very lucrative for Jane, but it comes with a cost: she cannot see her own daughter while she's there, except on the rare occasions when her Client approves. Jane befriends a white Host named Reagan, who, after a rocky start, becomes a trusted friend. Together, Reagan and Jane start to question some of the policies at Golden Oaks, where the surrogates have none of the power and lose control over their own bodies and actions.
What's good about The Farm: I loved the beginning, where Ramos explored the business of Filipina nannying and baby nursing. Her explanation of the dynamics between white Manhattan mothers and the women who care for their kids was fascinating. (One image that stood out at me: the plastic takeout containers that are fished out of NYC apartment trash cans, cleaned, and removed by nannies, only to be sent to the Philippines in large shipping crates and used by their families back at home, thousands of miles away.) And the setup at Golden Oaks was interesting too, not quite verging on dystopian, but certainly thought-provoking. The Asian-American brainchild behind Golden Oaks, an MBA wunderkind named Mae, is ruthless and calculating, viewing her Hosts as uteruses with the occasional irritating personal issues to be dealt with.
What's not as good: The Farm changed about halfway through to a thriller, as Jane, unable to reach her cousin to check on her daughter, decides she needs to escape from Golden Oaks. I didn't enjoy the second half nearly as much as the first. I much preferred the first half, which had a lot to say about economic inequality and the difficult choices women face when they have to provide for their own kids while taking care of those of another.
So this was a mixed bag for me. Nicole and I are discussing The Farm on The Readerly Report for our June book club discussion, so stay tuned for what promises to be a spirited conversation.