Tonight I finished a book that I really enjoyed, and I'm sad because I wanted it to keep going. The book is Evvie Drake Starts Over by Linda Holmes.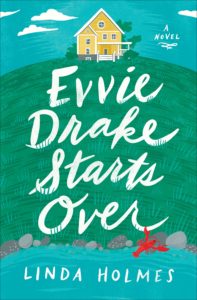 Evvie Drake is a thirtysomething woman living in Maine. Her husband Tim was killed in a car accident, and almost two two years have passed with her living in seclusion in the large house they shared. When her best friend Andy suggests that she rent out an apartment connected to the house, and also supplies the tenant – his old friend Dean, a World-Series-winning pitcher who can't hit his target anymore – Evvie reluctantly agrees. She can use the money, and, it turns out, the company.
Dean moves in with Evvie, and thus begins a friendship between two flawed adults that has the potential to turn into something more. Evvie and Dean's relationship is at the heart of Evvie Drake Starts Over, and I found it totally irresistible. They are adults, and they have adult conversations and do adult things. They've got their issues, which they slowly reveal to each other, and they are both just completely relatable. (Well, Dean is an MLB pitcher, so he's not that relatable, but he's very appealing nonetheless.)
It helps that Holmes – a pop culture reporter for NPR and the host of the Pop Culture Happy Hour podcast – is a funny, observant writer who puts her characters into totally believable situations. She is full of empathy for them too, which made this book so compelling. Evvie Drake Starts Over is an easy read, but not necessarily a light one. There's death, disappointment, estrangement, emotional abuse – a lot of difficult things to deal with. AND THERE IS BASEBALL! I am a HUGE baseball fan and I loved the baseball parts. (But if you don't like baseball, don't worry- the baseball parts aren't that long or very technical). I just wish Dean hadn't been a Yankee.
There are so many little details in the book that I loved… Dean's pinball machine, the depiction of a hotel restaurant they went to, a domestic mishap at the end involving a can of nails – these are the types of things that I notice and that make me feel like I am there experiencing what's happening in the pages. I can't believe this is Holmes' first novel.
Evvie Drake Starts Over is a thoroughly satisfying and enjoyable summer read. I am so glad I read it. I just wish I still had 20 pages left.