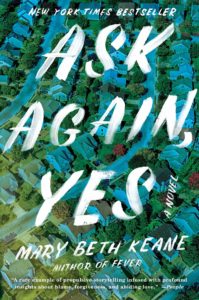 Ask Again, Yes by Mary Beth Keane is a novel about two families who move next door to each other in suburban New York in the 70s and how tragedy soon links them inextricably for generations. The Gleesons (Francis and Lena) and the Stanhopes (Brian and Anne) move to the same suburb after Francis and Brian serve as partners on the NYPD in their twenties. Soon after moving in, both couples have children, and those children grow up together. But there is no closeness between the two couples – Anne and Lena never become friends due to Anne's increasingly paranoid and erratic behavior.
One night, Anne becomes violent after a confrontation with her son Peter, and the repercussions are tragic, leading to the collapse of the Stanhopes and leaving an indelible mark on the Gleesons. Ask Again, Yes tracks the years that follow, as Peter deals with the aftermath of his family's breakdown and tries to navigate his way to adulthood largely on his own. When he reunites with the Stanhopes' daughter Kate years later, the tragedy they endured as kids resurfaces in many complicated ways.
Oh boy did I like this one. There's quite a bit here – coming of age, family estrangement, substance abuse, mental illness, loyalty and disillusionment. These characters endure a lot. But I loved how Keane rotated around among them, giving them closeups and then pulling back, checking in with them and revealing how their lives were progressing and changing. Rather than include every notable event in their lives, she often addressed them in flashbacks, focusing instead on daily vignettes and seemingly unimportant moments that provided a more nuanced and realistic view of her characters' lives. The pacing was perfect, with incremental shifts rather than dramatic change happening as the years unfolded. The details are spot on – body language, dialogue, small decisions made or actions not taken – all combining to paint a compelling picture of the Stanhopes and the Gleesons.
I spent so much of this book just wanting to give Peter a hug – a similar impulse to how I felt last week reading The Dutch House by Ann Patchett (reviewed here). In the end, I liked Ask Again, Yes even more. The characters were more complex and their lives were more richly conveyed. I do wish Keane had allowed some ups to balance out the downs. There isn't much joy in Ask Again, Yes, and even when discover that her characters were, at one point, happy, those are inevitably times we only learn about later, in flashbacks.
I listened to Ask Again, Yes on audio except when I just couldn't stay away from it and had to pick up the print. It was narrated by Molly Pope, who did a great job conveying the gravity of the story (and the occasional Irish brogue). I actually looked up a video of Pope narrating the book because I was curious to see what the narrator looks like (does anyone else ever do that?) and learned that she is an actress and singer who is not always as serious as this book is! I highly recommend the audio.
Ask Again, Yes is going to be a a top-5 read for me this year. If you enjoy multigenerational family sagas that tackle tough topics with empathy and kindness, this one is definitely for you.