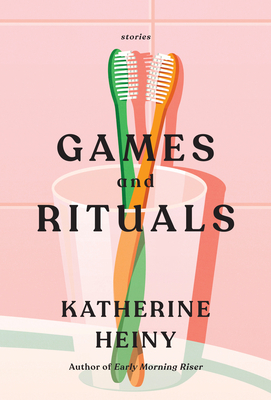 Games And Rituals is a collection of short stories by Katherine Heiny, an author I like quite a bit. I am not always a big fan of short stories, but if she's the author, I'm in. Heiny has a unique gift for coming up with totally original settings and situations, and then delving in quickly so that you feel totally immersed in the characters and invested in the outcome.
Why I picked it up: I have really enjoyed Heiny's other books (Single, Carefree, Mellow, Early Morning Riser, Standard Deviation), so this one was a no-brainer. (I'm a Heiny completist!)
Heiny's characters and settings are commonplace and relatable – the people at the DMV who administer the driving tests; a middle-aged woman's cantakerous elderly father; two roommates during the pandemic; a New York City wife discovering her husband's affair. Games And Rituals covers the full gamut of human emotions – love, grief, irritation, fear, lust, boredom – it's all here. And it all feels so fresh and new. Heiny has said that the basis for some of these stories came from her own life and experiences, but she must have infused them with a strong dose of her keen and lively imagination – it's an electric combination. And while short stories often leave me a little dissatisfied, I didn't have that problem here. Each of these stories was like a mini-novel, with a satisfying ending.
I highly recommend this collection!
Games And Rituals was the 36th book of 2023.