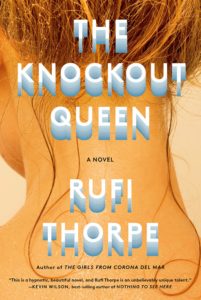 Sometimes the best books are the ones that defy genre categorization. The Knockout Queen by Rufi Thorpe is one of those books. It's a darkly comic coming-of-age novel about identity, friendship and forgiveness. While the book is very funny at times, it's also quite sad, dealing with issues like domestic abuse, homophobia and alcoholism. A complex friendship lies at the core of The Knockout Queen, but that friendship is both strengthened and tested by forces much bigger than the two people in it.
Why I picked it up: The Knockout Queen came recommended by trusted sources (Sarah and Catherine, and when it came up as a BOTM pick, I chose it.
Michael lives with his aunt, sharing a room with his Neanderthal cousin, because his mother, who served time for assaulting her abusive husband, has moved into an apartment and taken only Michael's younger sister. Michael, who is gay, becomes friends with Bunny, the girl next door, who attends the same high school he does. Bunny is large and athletic, neither of them fitting the mold for the "normal" popular kids at school. They become best friends, with Michael spending most of his time at Bunny's house with her and her shady, alcoholic realtor father Ray. In Bunny and, to a lesser extent, Ray, Michael finds the closest thing he has ever had to a true family.
Bunny and Michael each grapple with becoming young adults – their sexuality, their complicated relationships with their parents, their self-esteem – and their friendship goes through phases as the two have their own experiences, good and bad. A series of events in the second half of the book, however, only proves the loyalty they feel to each other, but also sets them off on opposite trajectories that put distance, both physical and emotional, between them. The Knockout Queen is like 2020 – just when you think things can't get worse, they do. But Thorpe's writing – keenly observant, very funny and never sentimental – keeps The Knockout Queen from devolving into melodrama.
I really liked The Knockout Queen. It's an unexpectedly complex, engrossing book with a memorable, albeit heartbreaking, story and well-drawn, realistic characters. It took me a little while to get into it, and for that reason I'd knock off half a star, but once I got going I was all in.
The Knockout Queen was Book #49 of 2020.