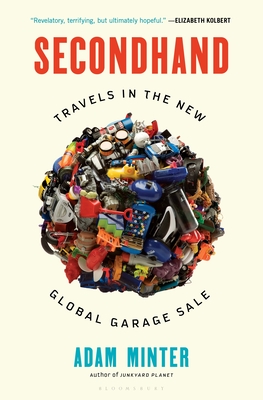 Have you spent any of the pandemic cleaning out your home? Have you gotten rid of clothes, furniture, electronics or (gasp!) books? If so, have you wondered what happens after the truck comes for them, or you take them Goodwill or another donation site? Wonder no more: Adam Minter's Secondhand: Travels In The New Global Garage Sale is a fascinating look at the circuitous route that our secondhand stuff takes after it leaves our possession.
Why I picked it up: I am kind of obsessed with recycling. I love the idea of things having multiple lives and purposes and avoiding landfills. As soon as I learned about Secondhand, I knew I had to read it.
In Secondhand, Minter, a business journalist, starts by explaining why so much stuff is discarded: we don't expect our stuff to last long; kids don't want their aging parents' stuff; some societies view regular upgrades as a sign of status; manufacturers make it hard to repair electronics, appliances and cars; and more. The result of all of this casting away of things is a huge amount of hard goods that get transported from country to country, from cars and refrigerators to laptops and clothes. They may enter the "global garage sale" via Goodwill in the U.S., or a used bookstore in Japan, or a massive clothing sorting facility in Canada… and then they are on their way to Africa or east Asia or even to a rag manufacturing company in the U.S. with plants around the country. While there is a lot that ends up in landfills, there is also a complex, dynamic economy of companies and markets – legal or not – that find new homes and uses for a broad range of things.
While the book is scary on many levels – overconsumption, storage facilities, disposable culture – there is a lot of positive news in here. First, the interconnected network of buyers and sellers and secondary markets is a testament to human ingenuity and the efficiency of a good market. There are a lot of people who spend a lot of time preventing things from ending up in landfills. Second, Minter's message is that people can help prevent landfills from getting fuller by investing in quality products and garments that have a longer expected life than many of the "disposable" items we buy today. If you buy something that lasts, you'll either keep it longer or you'll find a willing buyer more easily. Third, more countries are passing legislation making it harder for companies to keep their products out of repair shops. That means making it illegal for Apple to degrade their batteries or change their screws so that independent repair shops cannot open their phones.
There's a lot more to this book than what I've summarized. If you're interested in recycling and reducing waste – go pick up Secondhand! It's well-researched and conversational in tone, and it will change how you think about buying and donating and consumption overall.
Secondhand was Book #48 of 2020.