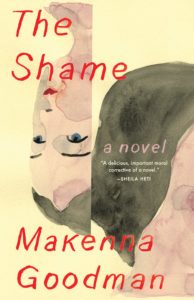 Sometimes I like the idea of a book more than the book itself. That happened to me with The Shame by Makenna Goodman, a novel about a mother of two in a small town in Vermont who is so conflicted about her life that she gets in the car and drives away from her family, pursuing an ideal that may not even exist. While Goodman's writing is at times brilliant, the book overall was a slog to get through.
Why I picked it up: The Shame was my book club's October pick.
Alma and her husband Asa used to live in New York City, but have moved to Vermont so that he can be a professor at a small college. Alma stays home with her two children, doing the domestic things that a SAHM does in a rural home. They have animals and a garden, and they enjoy the fruits of the earth and the sensual blessings that the seasons bring. But Alma isn't content. She flirts with a short-term writing job that she can't commit to; she follows social media accounts of people whose lives look better than hers; she keeps running lists on her computer of "Things I am Good At / Things I Want To Learn" to remind herself of her value.
Alma's narrative takes a turn when she comes across (invents?) an Instagram account for a woman named Celeste. Celeste is everything Alma wants to be – urban, sleek, beautiful, timeless; maternal and patient, yet also artistic and creative; capable of entertaining and preparing delicious and healthy meals. Alma admits that "Celeste was based on me, partially, but the 'me' I might have been if I had learned to like myself." Alma's obsession with Celeste grows, leading to her increased dissatisfaction with her own life and her need to pursue the ideal life that Celeste lives.
On the positive side, I liked the realistic view of modern parenting depicted by Goodman in The Shame: the swirl of love, boredom, confinement, joy, worry, anxiety, envy and gratitude. It's all here in The Shame, and Alma's cycling through these emotions each day feels real and familiar. Goodman's style reminded me of an author I love – Jenny Offill – and The Shame is reminiscent of Offill's latest, Weather, which too was light on plot but full of observations exploring the challenge of how to balance macro fears like climate change and impending disaster with modern life and its daily banalities. The Shame didn't work as well for me, though. I had a hard time staying focused and interested, and I found the Celeste plot confusing. i suppose it doesn't matter whether Celeste was real or not; she was a manifestation of Alma's ambivalence and dissatisfaction. But I still wanted more clarity.
In the end, The Shame was just okay for me. The brilliant moments were too far between to keep my attention.
The Shame was Book #51 of 2020.