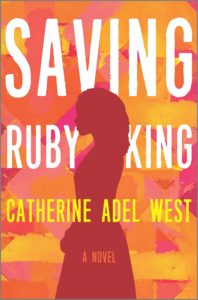 Saving Ruby King by Catherine Adel West is a novel about how abuse, secrets and violence pervade and repeat through three generations of African-American Chicagoans living on the South Side. Told through five perspectives – two fathers, their daughters, and the church they attend – Saving Ruby King opens with a murder and ratchets up the tension throughout the book as truths come out and characters try to resolve their troubled relationships.
Why I picked it up: Saving Ruby King got great reviews, and when it came up on my library hold list AND Scribd had it available on audio, I took that as a sign.
Ruby and Layla have been best friends since they were little girls. Layla's father Jackson is the pastor at their church, and Ruby's father, Lebanon, a childhood friend of Jackson's, is an angry violent man with a lot of resentment toward Jackson. When the book opens, Ruby's mother Alice has been murdered in their house, and Lebanon is the prime suspect. Ruby wants to escape her father's iron grasp, and Layla is determined to rescue her and get her out of Chicago. Meanwhile, Lebanon and Jackson have their own secrets and a complex relationship to work out.
There is a lot to like about West's debut novel. You may think you know who the villains are, but the characters in Saving Ruby King are too complex for that. The worst among them have themselves endured pain and trauma that made them who they are – and that trauma gets passed along to the next generation. Calvary Hope Christian Church serves as the center of this community, the omniscient observer of its congregants' lives and interactions. In addition to the intense family drama, West covers institutional racism and the South Side and police violence. Saving Ruby King felt almost Shakespearean to me, with trauma, betrayal and murder threading in parallel through the generations. For a debut novel, this plot is impressively complex.
There were a few things that kept Saving Ruby King from being a five-star read. First, for the first 100 pages or so, I had a hard time keeping the bloodlines straight. Second, there was too much telling instead of showing when it came to the characters. I prefer to get into characters' heads and understand their motivations through their actions rather than being told how they are feeling by the author. Overall, though, Saving Ruby King was a very good book, and I recommend it.
I listened to Saving Ruby King on audio. There are 5 narrators, and I thought the three male narrators were very good (Adam Lazarre-White, who voiced Lebanon, was excellent) but the two female narrators – the voices of Layla and Ruby – were weaker. They sounded too young and girly. Overall the audio is quite good, but some of my confusion in the beginning of the book may have been exacerbated by doing it on audio.
Saving Ruby King was Book #52 of 2020.