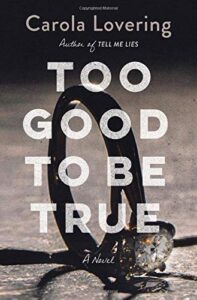 When Too Good To Be True by Carola Lovering opens, we learn that a couple, Burke and Skye, have just gotten engaged. They haven't known each other that long, but Skye is head over heels for Burke and is sure that he's the guy for her, even if her friends and family are a little wary of him. Soon after, we are introduced to Burke's diary entries, where he chronicles meeting Skye and getting involved with her. But according to his diary, he's not what he seems. He's married, in fact, with three kids, and is not telling Skye the truth. The rest of the book rotates among Skye, Burke and Burke's wife Heather, teasing out how they got to this point as well as the exposure and aftermath of Burke's deception.
Why I picked it up: Strong word of mouth, Nicole's recommendation, and the desire to read a literary thriller.
With Too Good To Be True, it's best to go in without knowing more than what I laid out above. There are a few twists and turns that surprised me (though I did figure one of them out pretty quickly) and kept me engaged. I enjoyed the rotating narration too. Overall it was well-plotted and paced, and I really felt like I knew these characters well by the end. If you're looking for a non-violent literary thriller with a lot of character development, this would be a good pick. Too Good To Be True is not always entirely realistic, but it's a great story.
I listened to Too Good To Be True on audio and it was very well done. The narrators, Amy McFadden, Andi Arndt and Stephen Dexter, brought the characters to life and gave them distinct voices and personalities. I especially liked Dexter's depiction of Burke. The only downside to the audio is that you may want to read ahead quickly to find out what happens, which is impossible with an audiobook!
Too Good To Be True was book #19 of 2021.