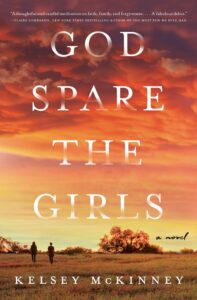 God Spare The Girls, a debut novel from Kelsey McKinney, is about loyalty, power and faith among a Texas family. Luke Nolan is an evangelical paster whose wife Ruthie and daughters Abigail and Carolinenhave always fallen in line around him, supporting his role as the leader of their congregation and serving as perfect examples of dutiful, Christian women. But the seams are starting to show signs of stress; Caroline and Abigail have moved out of their parents' home into their grandmother's ranch in the weeks leading up to Abigail's wedding, just as Caroline is preparing to go away to school and Luke's own morals are called into question, threatening not only the stability of the family but also their role in the congregation.
Why I picked it up: God Spare The Girls was on a few summer reading lists from trusted sources, and I was drawn to the comparison to The Book Of Essie (reviewed here).
This could have been a really good book. Caroline and Abigail face a number of difficult choices, testing their loyalty to their father, the limits of their willingness to keep up appearances in their small town, and their own desires for autonomy and freedom. The Book Of Essie exposed the hypocrisy of an influential evangelical family, but God Spare The Girls was gentler to and more understanding of the Nolans and their adherence to their faith and congregation. McKinney touched on a lot of these topics and started to explore them, but her treatment was ultimately superficial and left them mostly unaddressed. I wanted so much more from this book, from these characters.
I also had a hard time getting through God Spare The Girls because the writing was very repetitive. So much detail about the interactions among the few characters, so much analysis of small actions and plot points. I wish McKinney had channeled that effort into character development and testing of the main themes rather than focusing on minutiae. Reading God Spare The Girls triggered claustrophobia for me, which could have been intentional on the author's part but ultimately detracted from the experience. I basically just wanted to be finished. The clashing climax never came and the confrontations all seemed to stop well short of where they needed (and I wanted) them to go.
I listened to God Spare The Girls on audio. It was narrated by Catherine Taber, who (I think?) did a good job with the Southern accents. She was easy to listen to and was a good match for Caroline and Abigail's teenage/young adult characters. But her performance couldn't lift this one up for me.
God Spare The Girls was the 38th book of 2021.